Purchase
Ready to make your stay a little more permanent?
View our current listings at Tahoe Tavern Properties…
Need more information or want to take a look around the property?
Contact

Doe Renee Tolle

at

530.412.2953

or

doerenee@tavernproperties.com
You can also contact our office at

530.583.3704

or email

info@tavernproperties.com

at anytime.
C  U  R  R  E  N  T    L  I  S  T  I  N  G  S
Coming Soon!
T a hoe Tavern T o w n h o m e  # 31
2  B E D R O O M ,  2 BATHROOM – FOREST VIEW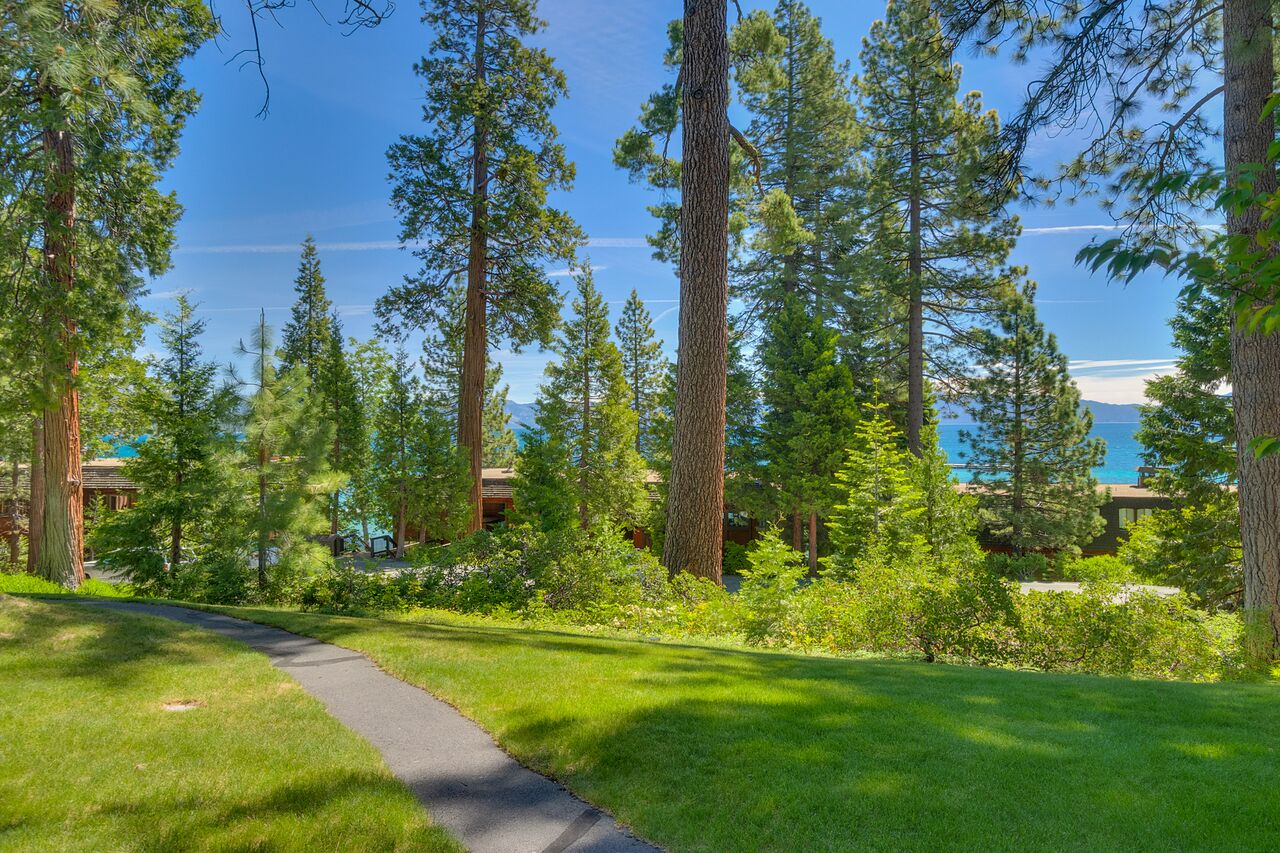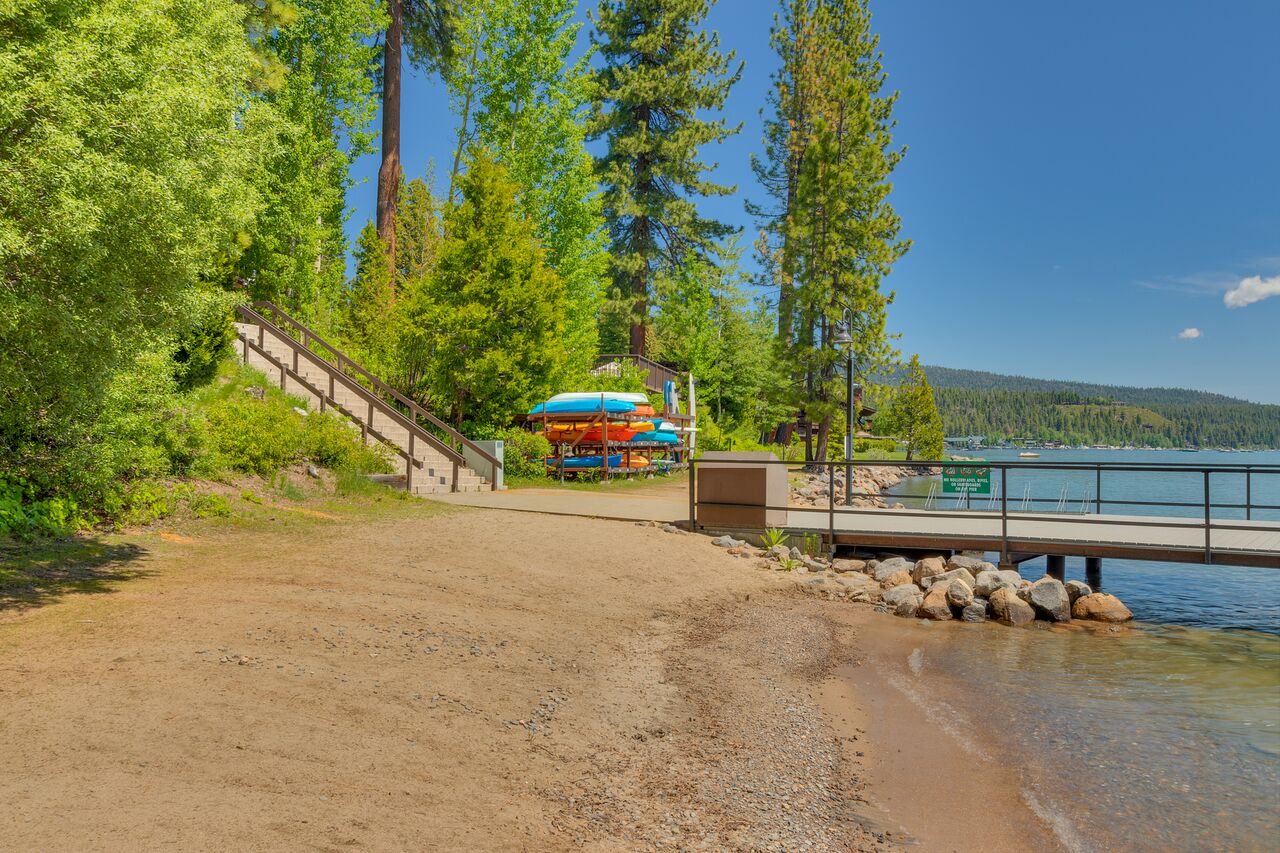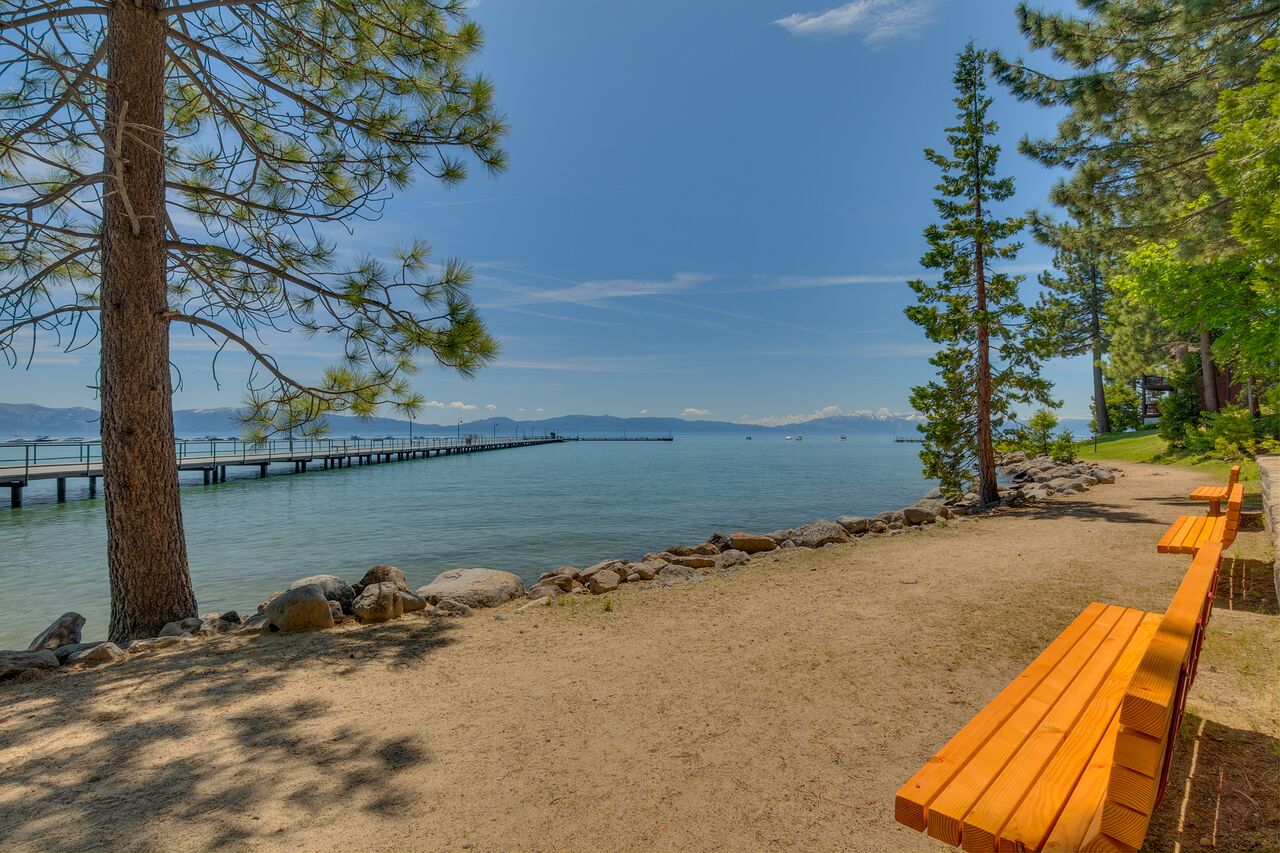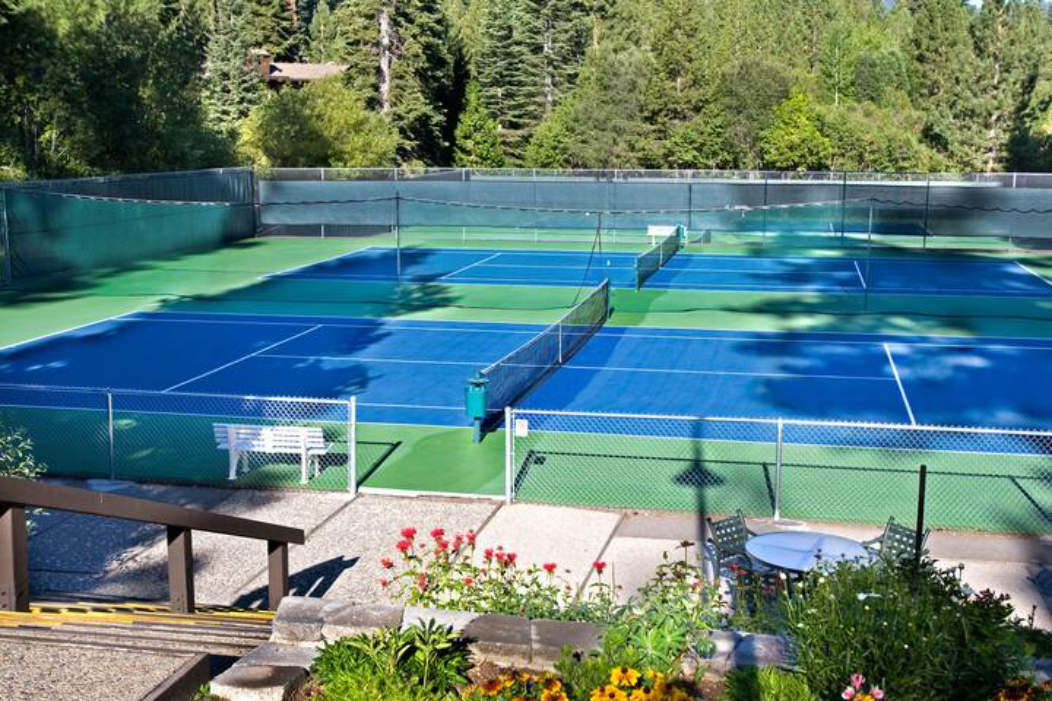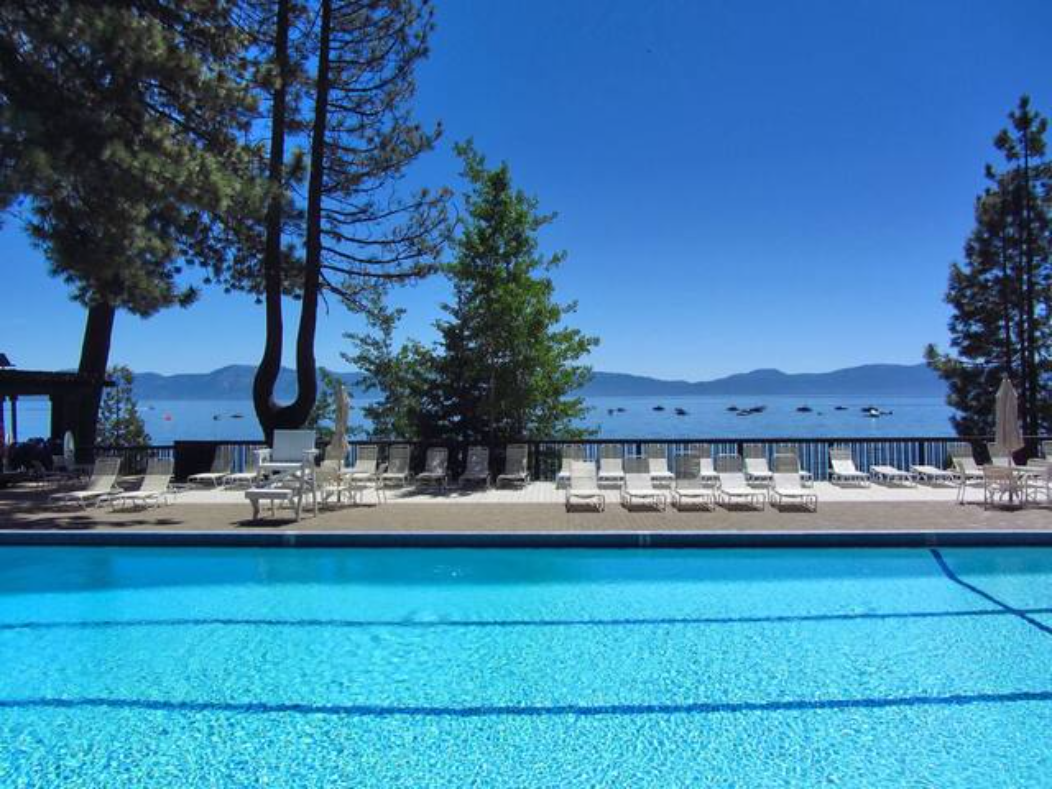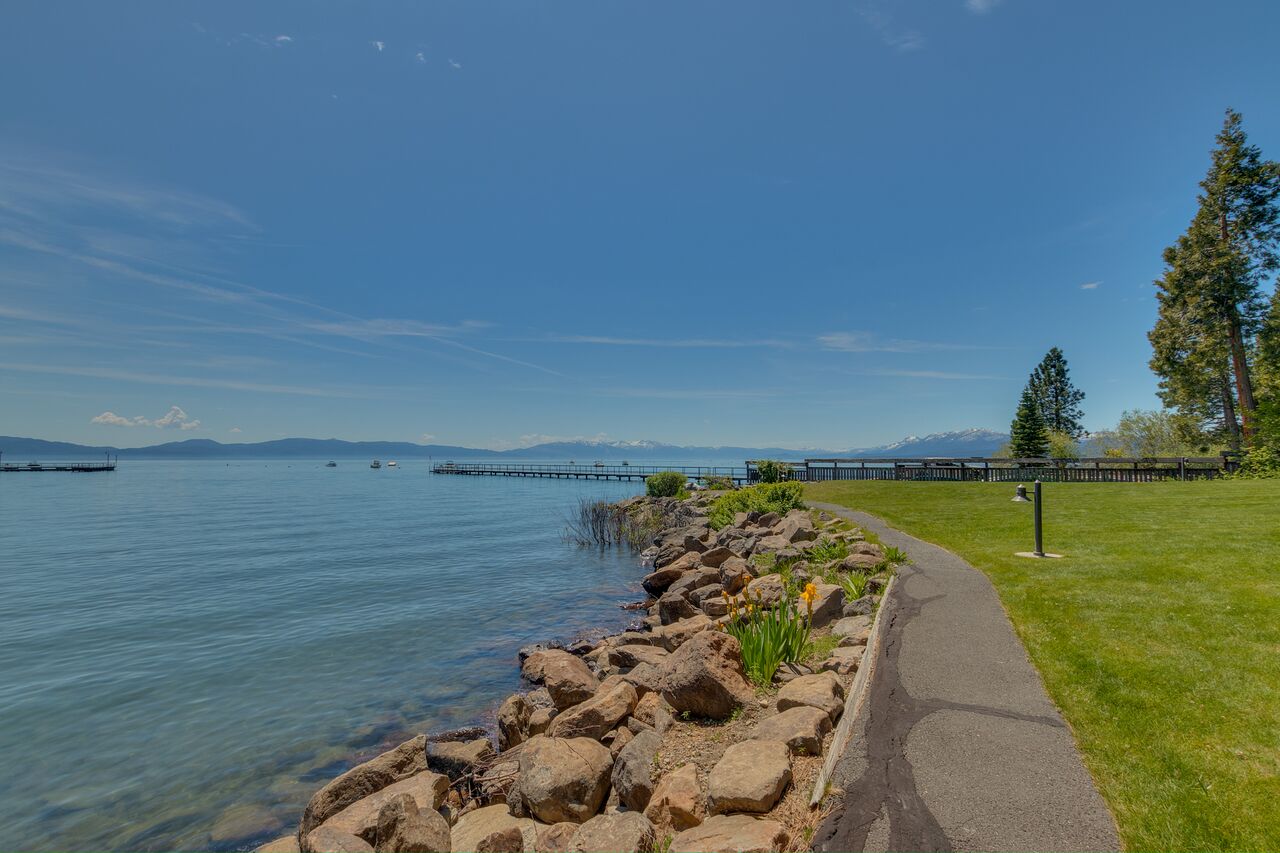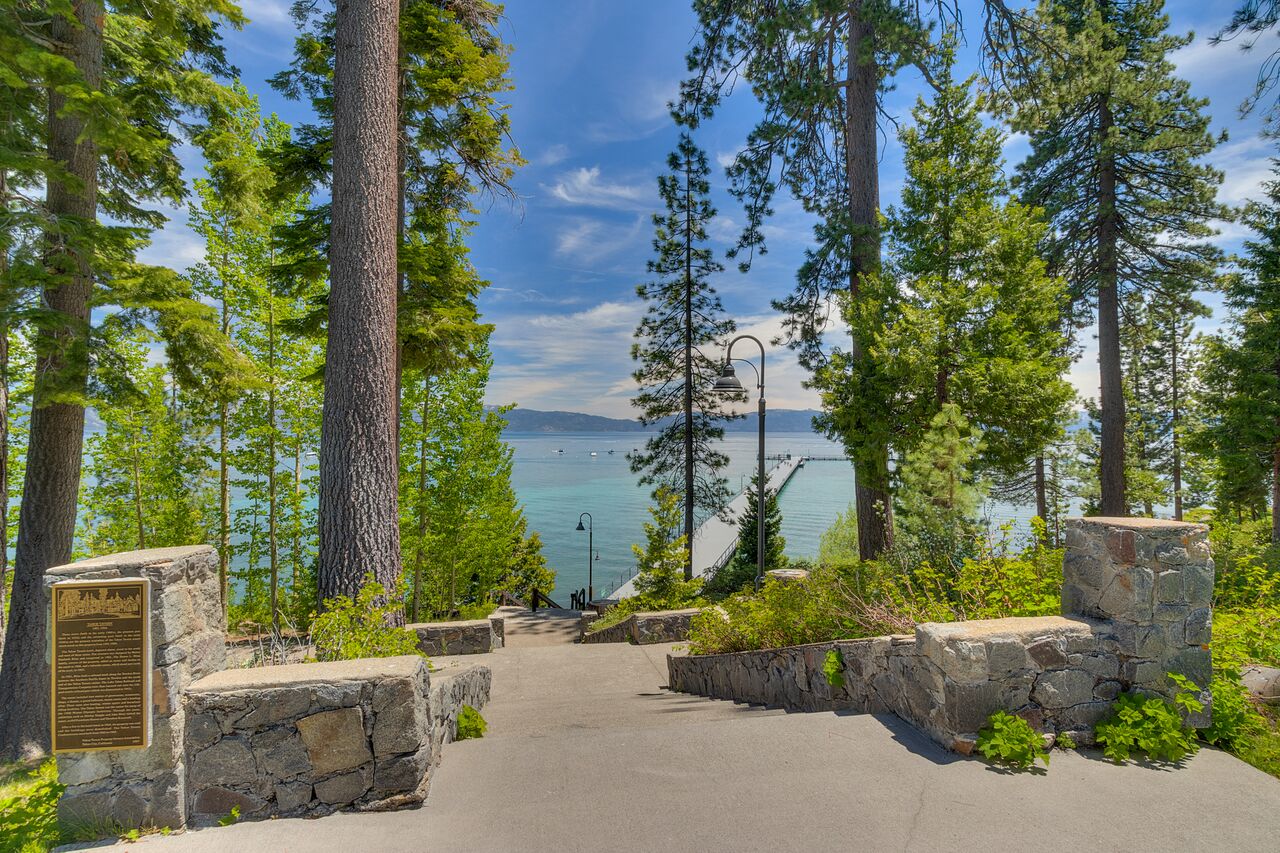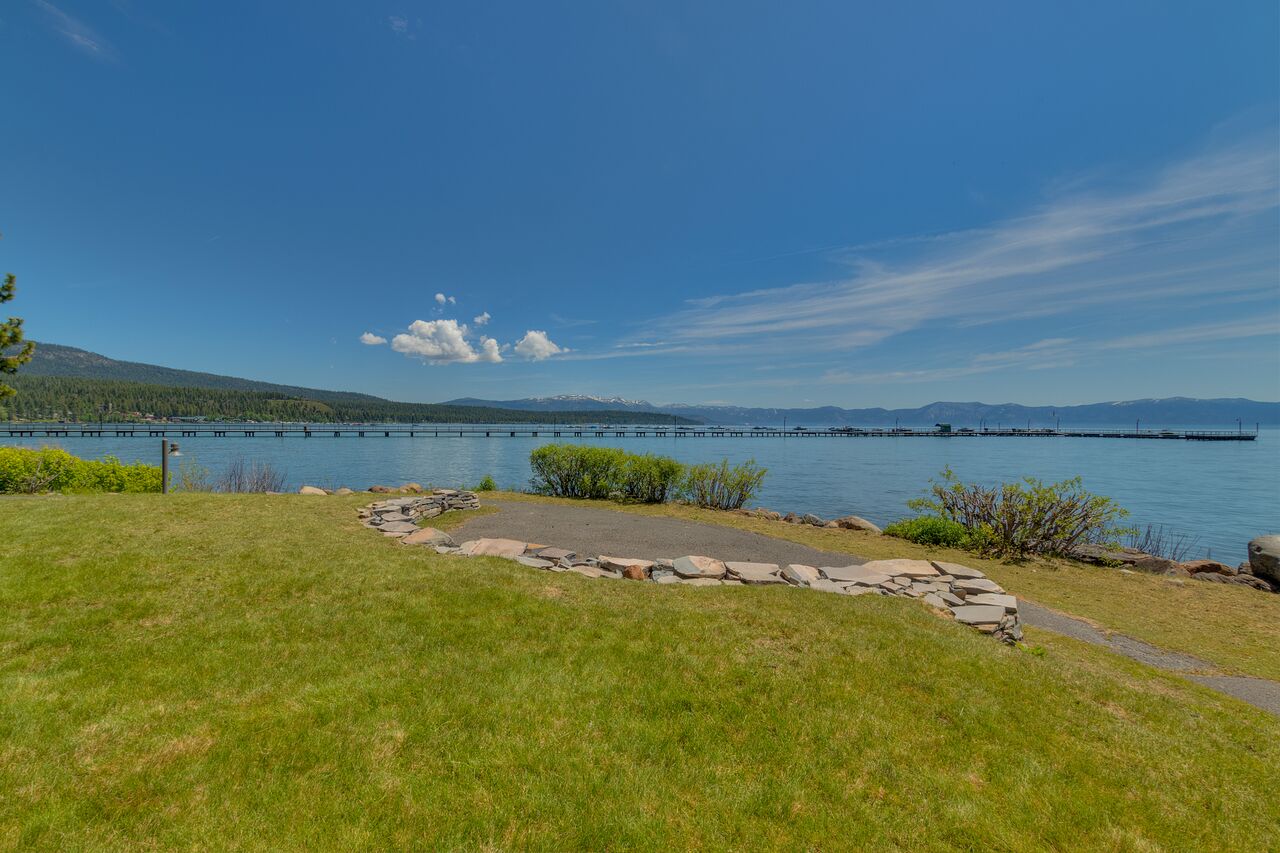 No Stairway Needed to Heaven at Lake Tahoe
All-on-one-level accommodations are rare at Lake Tahoe.  Even rarer is a two-bedroom home, fully renovated from the ground up, privately located, yet only steps from The Lake, and just a few more from the center of Tahoe City.
In Tahoe tradition, the home is fully furnished, with modern, high-end finishes, including artwork, and extra touches throughout.
The redo began at ground level with new, now-accessible subfloors fully insulated.  All porcelain tile floor spaces (including the showers) are radiant-heated. The heating system not only has five zones; but these are controllable from your smartphone app.
Your no-stairs Home at the Lake is not only beautiful and peaceful; but also quiet, with entirely new interior walls with thicker (5/8") coverings, and coatings selected for sound mitigation.
The sun has been invited in, with a clerestory band and four new Velux skylights. The center post everyone else has to deal with has disappeared thanks to steel beams added aloft.
Interior doors are solid core alder wood. Pocket doors have steel frames.  All bath and kitchen cabinets are custom alder wood and constructed to support the granite countertops, with recessed lighting as counter point.  The kitchen appliances are all new, top-of-the-line from LG; and hot water is instantaneous with continuous loop circulation. You and yours can relax in the open concept living room, augmented, as you wish, by the warmth of the stone (gas) fireplace, on luxurious leather furnishings.  The 75" TV can reconnect you to the world or your favorite show.  The master bedroom sports a king bed; the other bedroom, a queen. Both also have TV's.  The ensuite bathrooms are both bedecked in granite, tile with hydronically heated floors, Hans Grohe fixtures, 2-staged wall-mounted toilets, and insta-hot showers..
The fenced yard, just off the great room, provides a parallel life stream in the immediate outdoors. There's room aplenty for dogs and kids to frisk. The tile patio allows access in any season to BBQ, dine or just lounge on the sectional and chairs while relaxing around the fire pit.
Outdoors, it's literally just a few steps to the lakefront pool, beach, pier, tennis and pickleball courts. The sledding hill and the bike path are just a bit further.   It is just a stroll along the lake-view, forest path to the shops and restaurants of town; …. so close; and yet, so removed from the visiting crowds. Hiking, snowshoeing and incredible skiing/snowboarding are all only a short drive away.
The Lake is literally at your feet, in newly burnished comfort, in this dream home-away- from-home,  where there's No Need for a Stairway to Heaven.
---
 Just listed!
T a v e r n  Shores T o w n h o m e  # 211
3  B E D R O O M ,  2.5 BATHROOM – LAKEFRONT
Listed at $2,300,000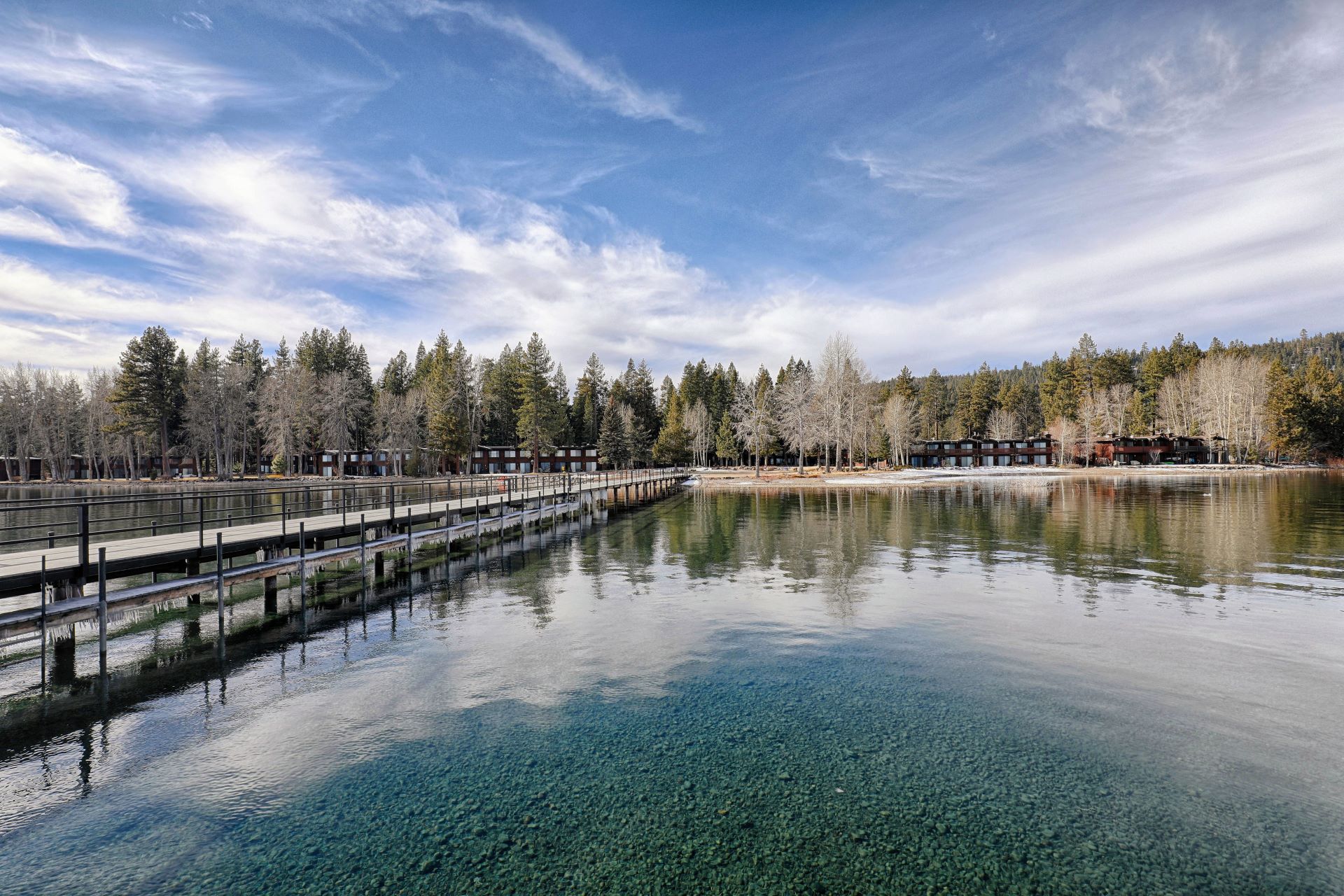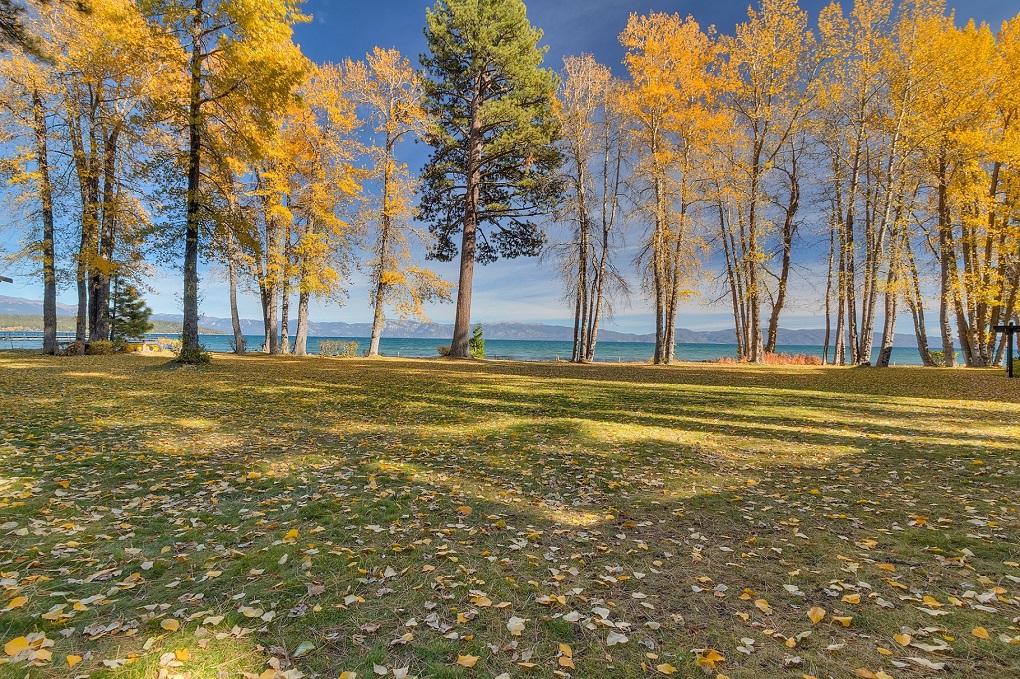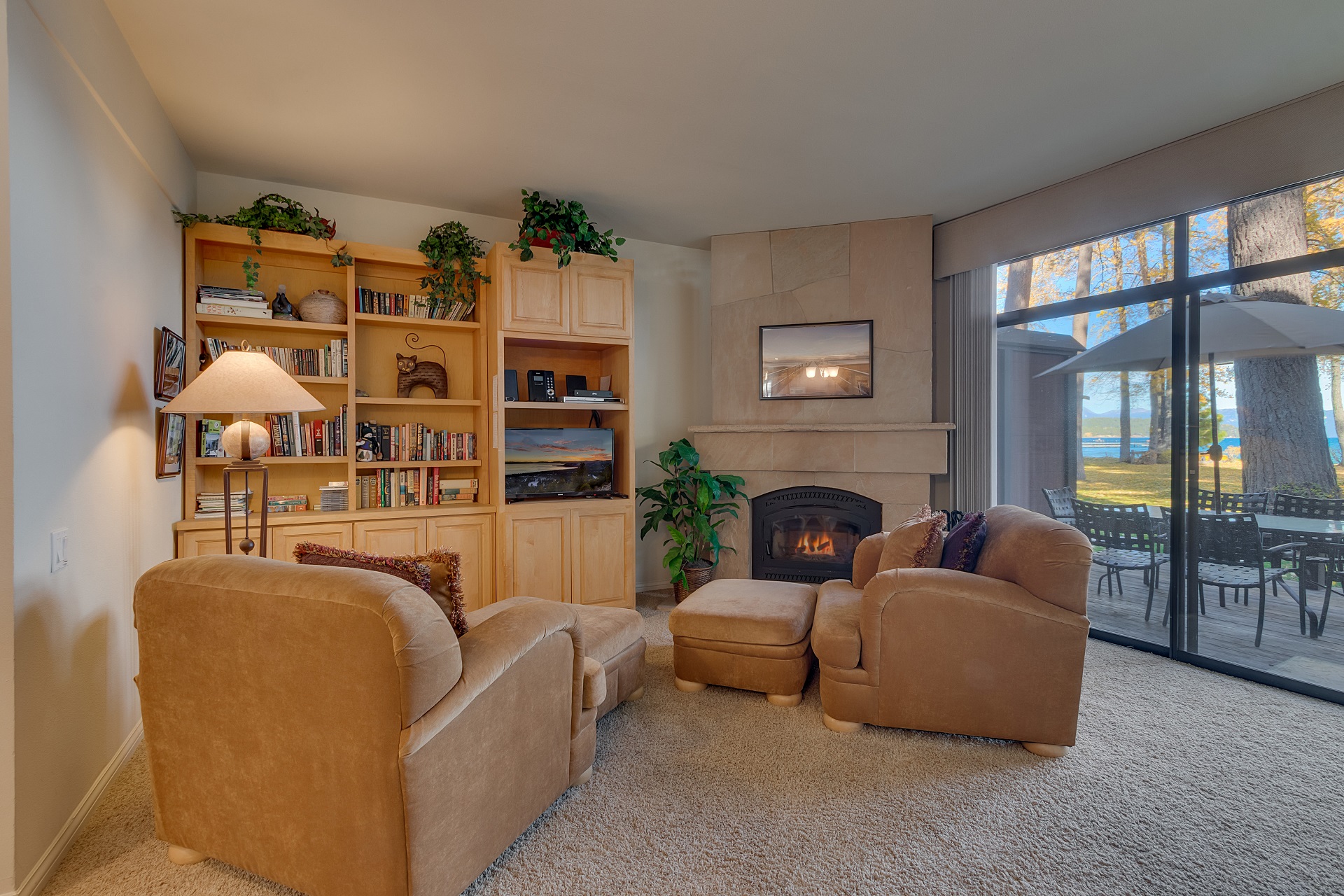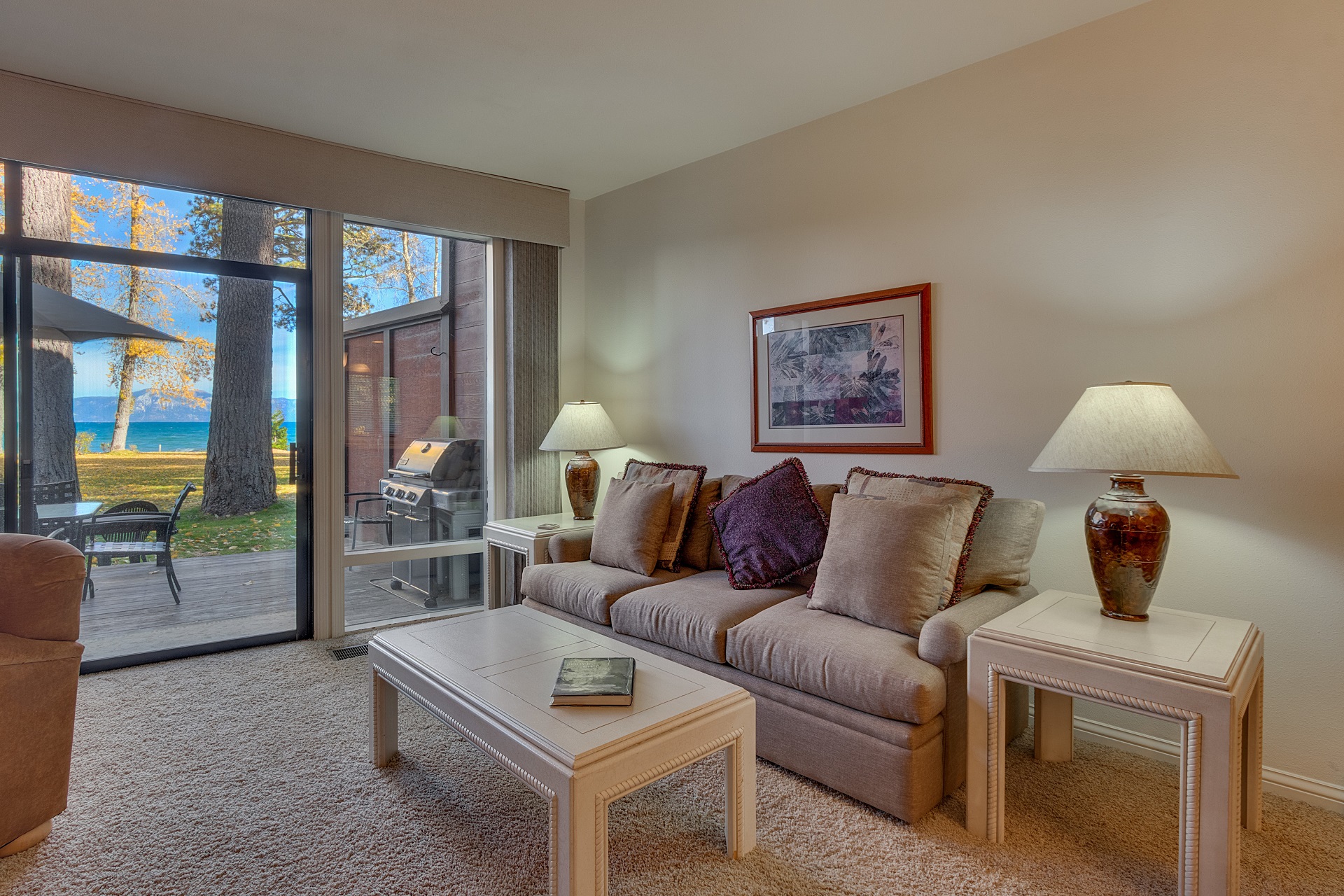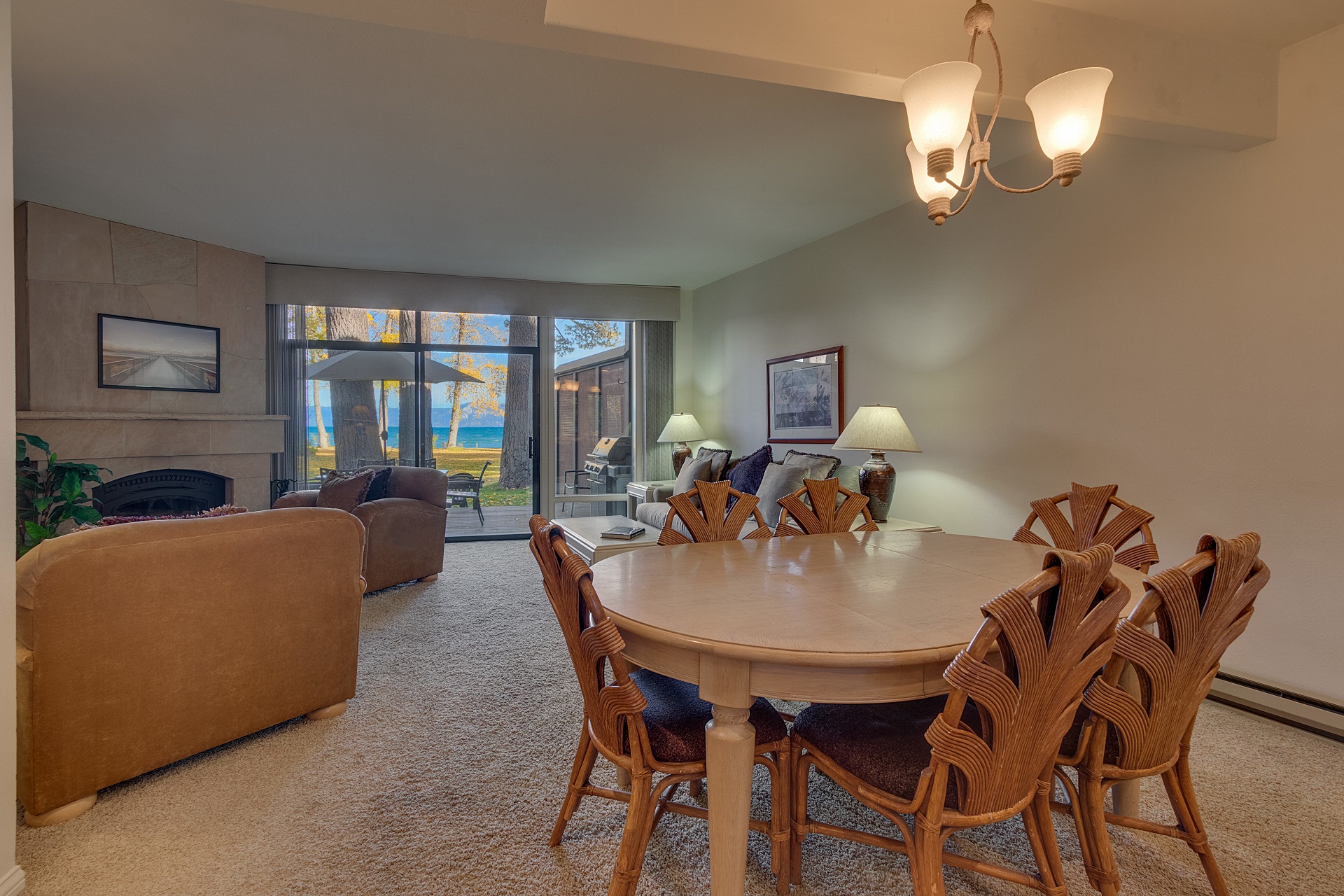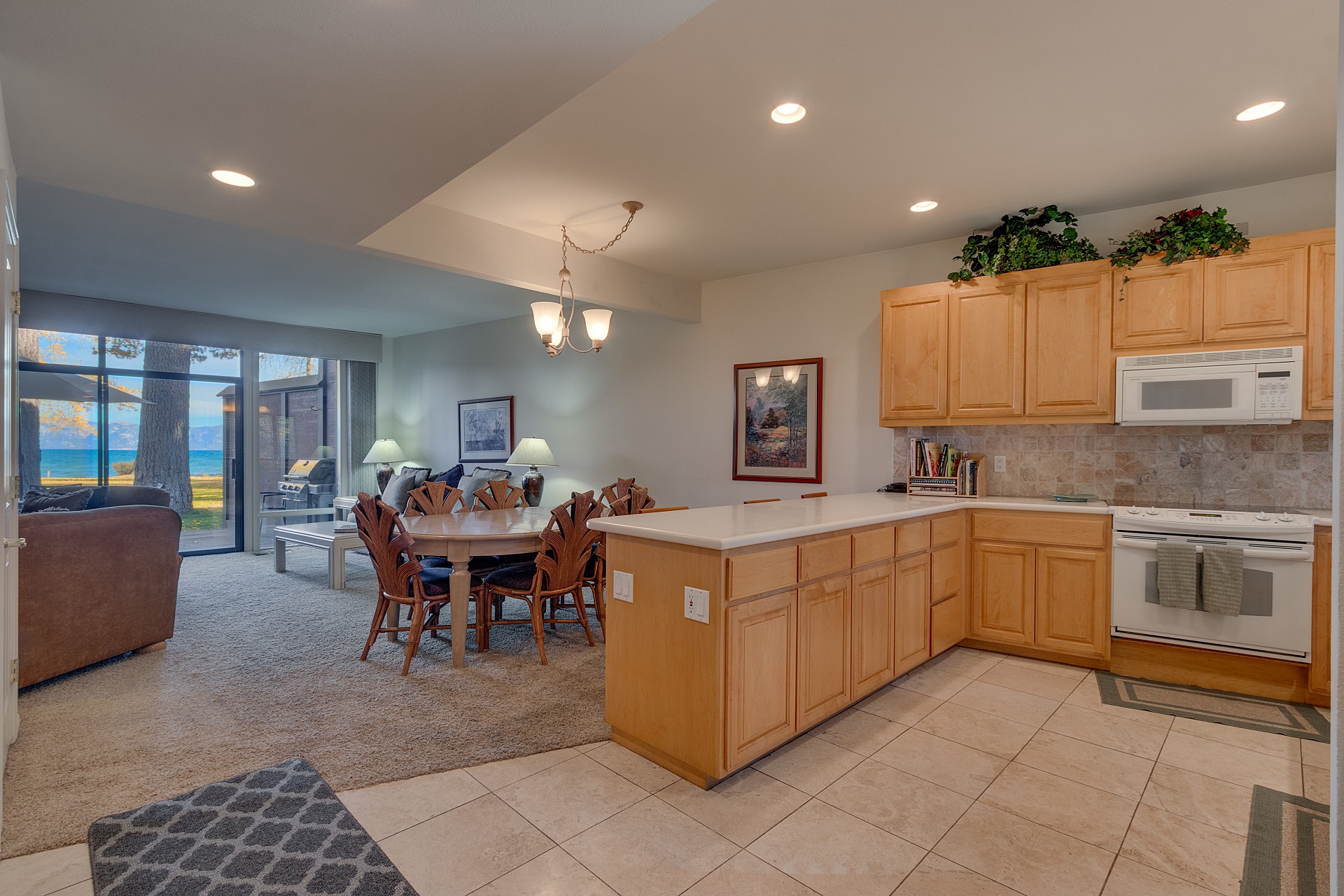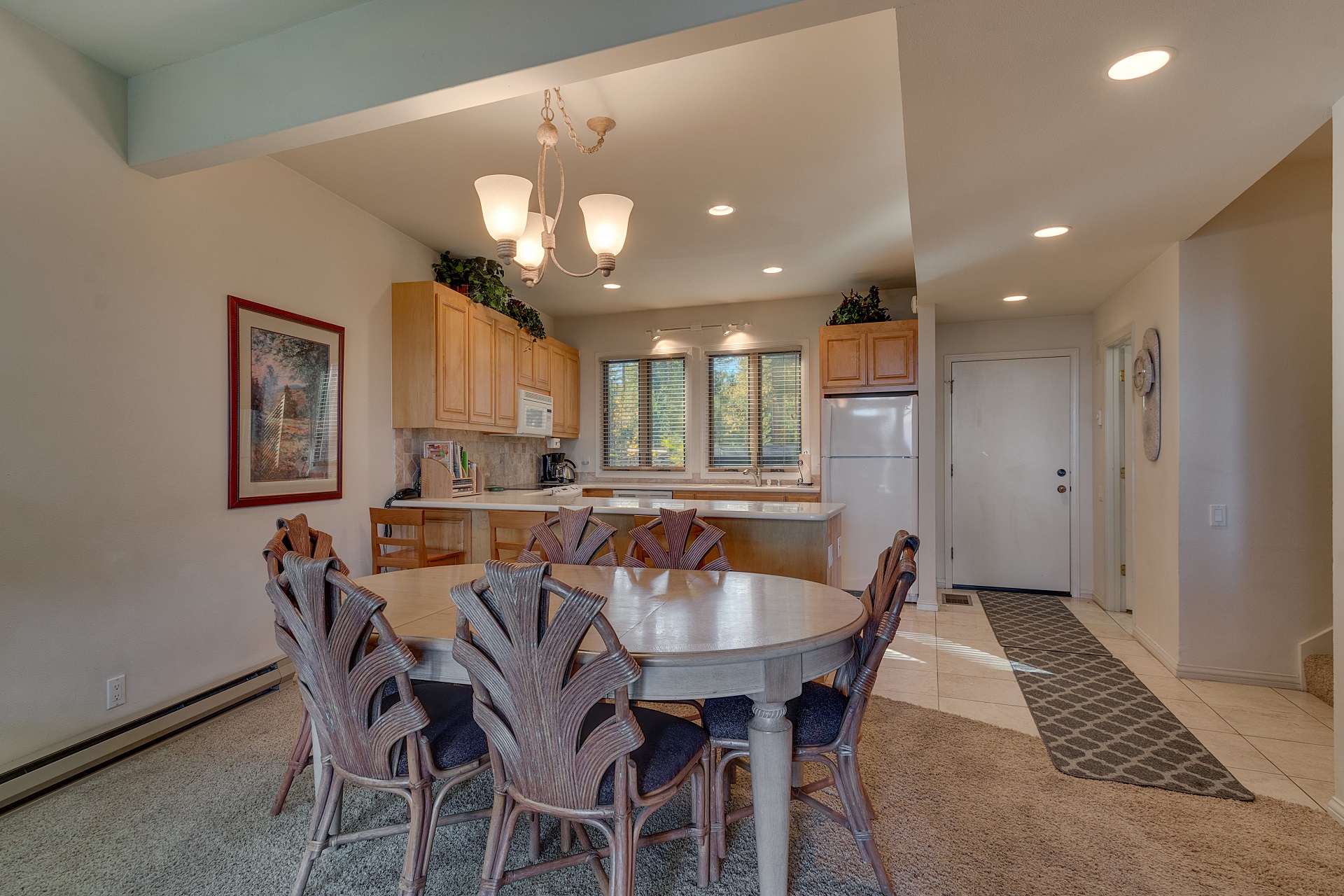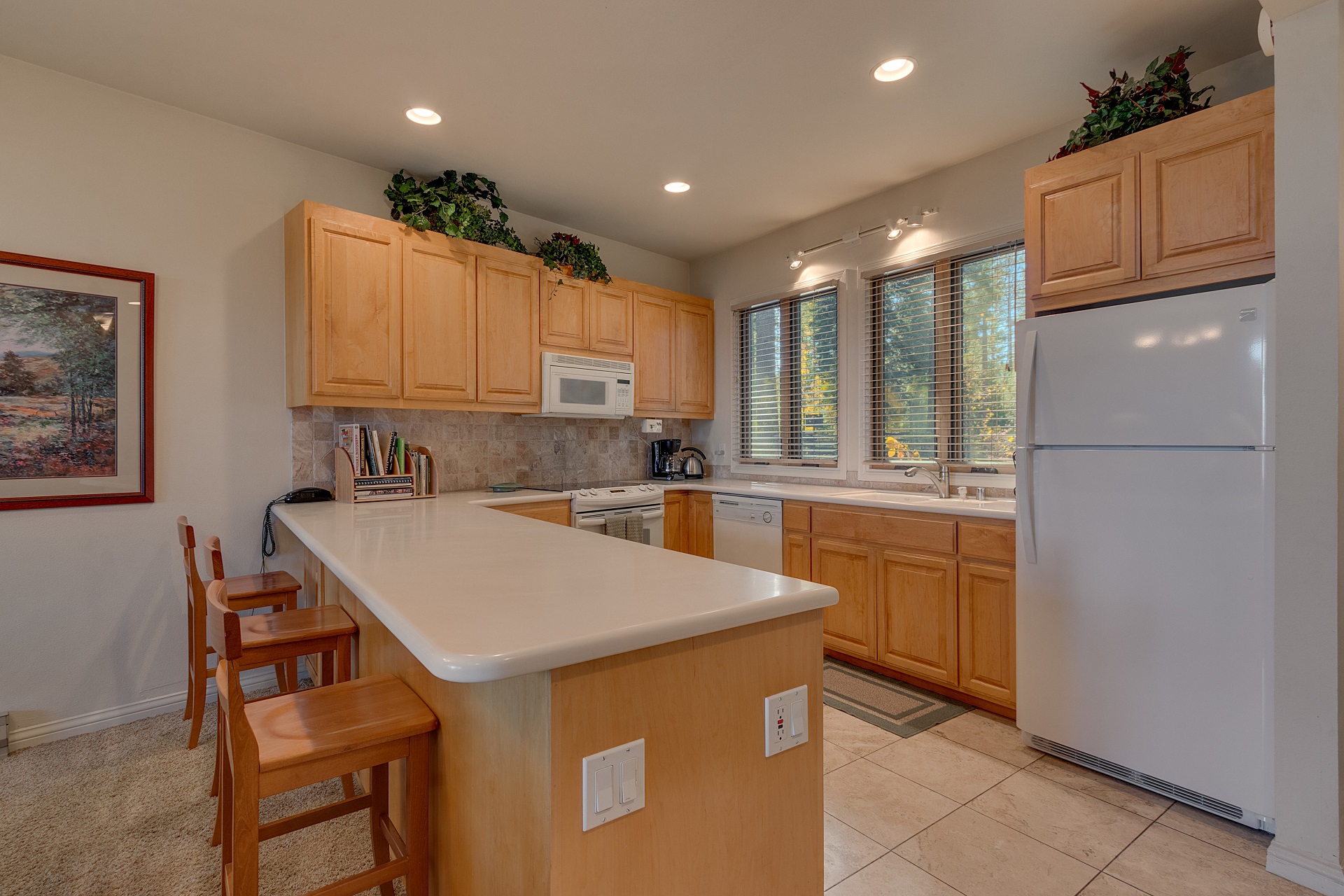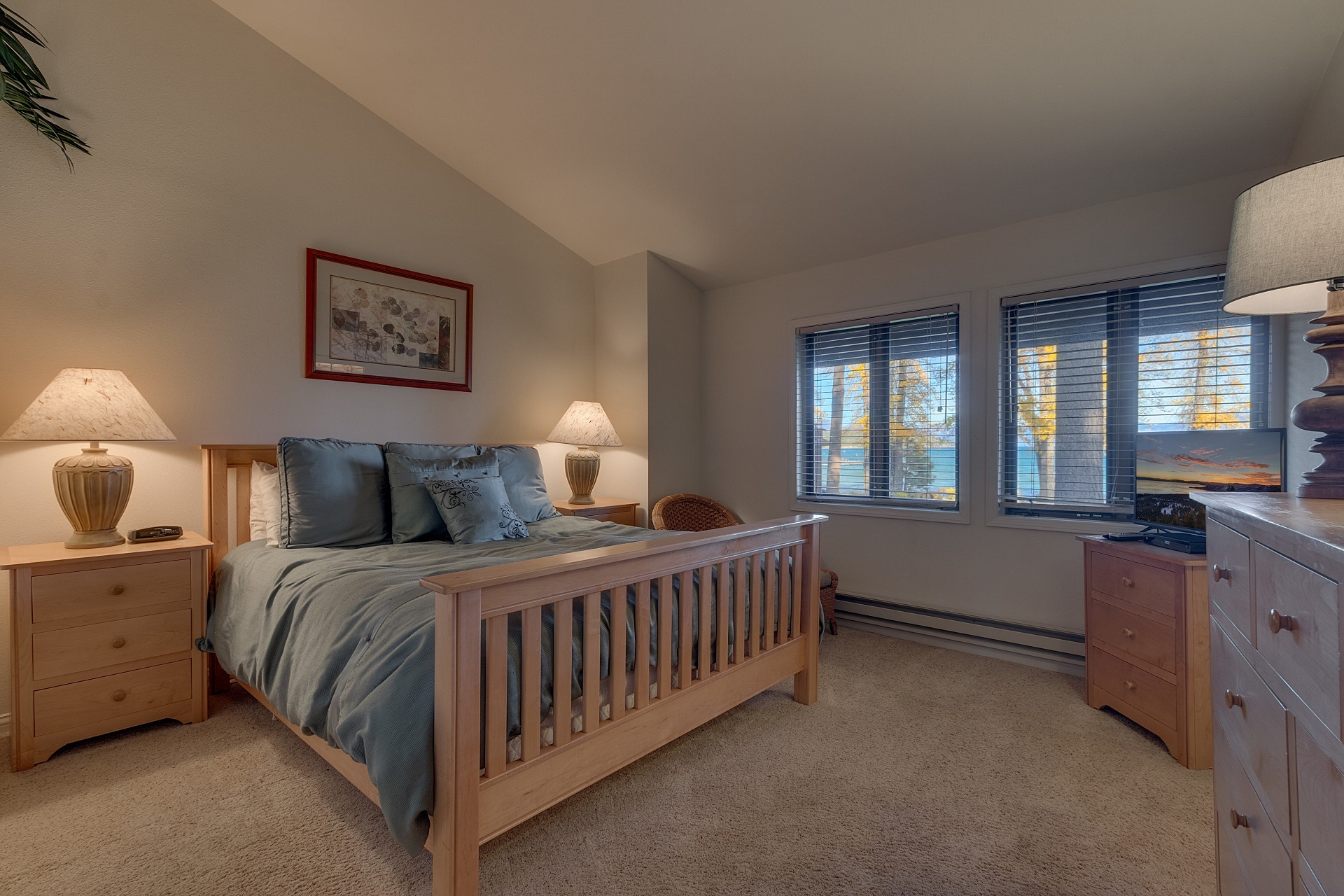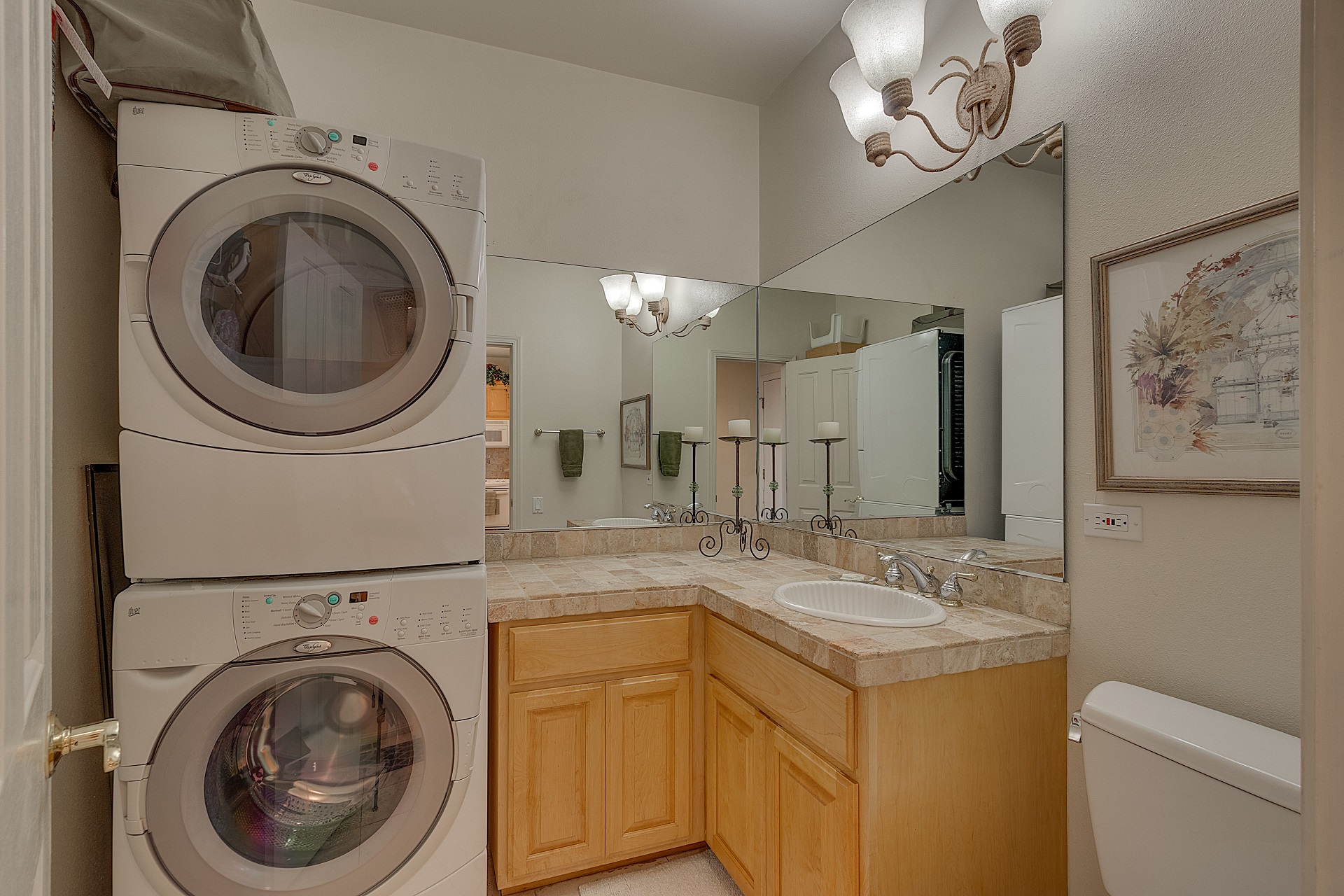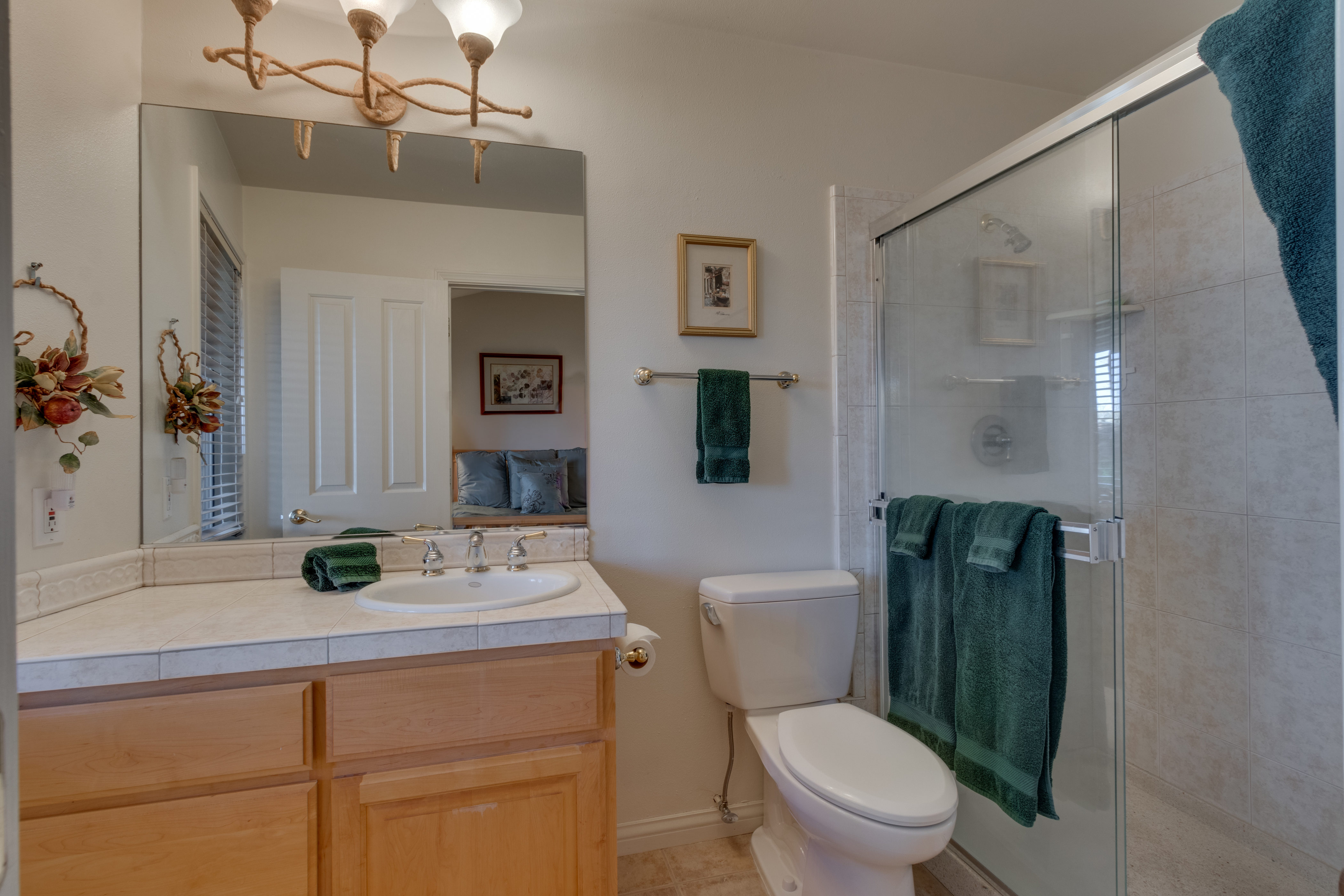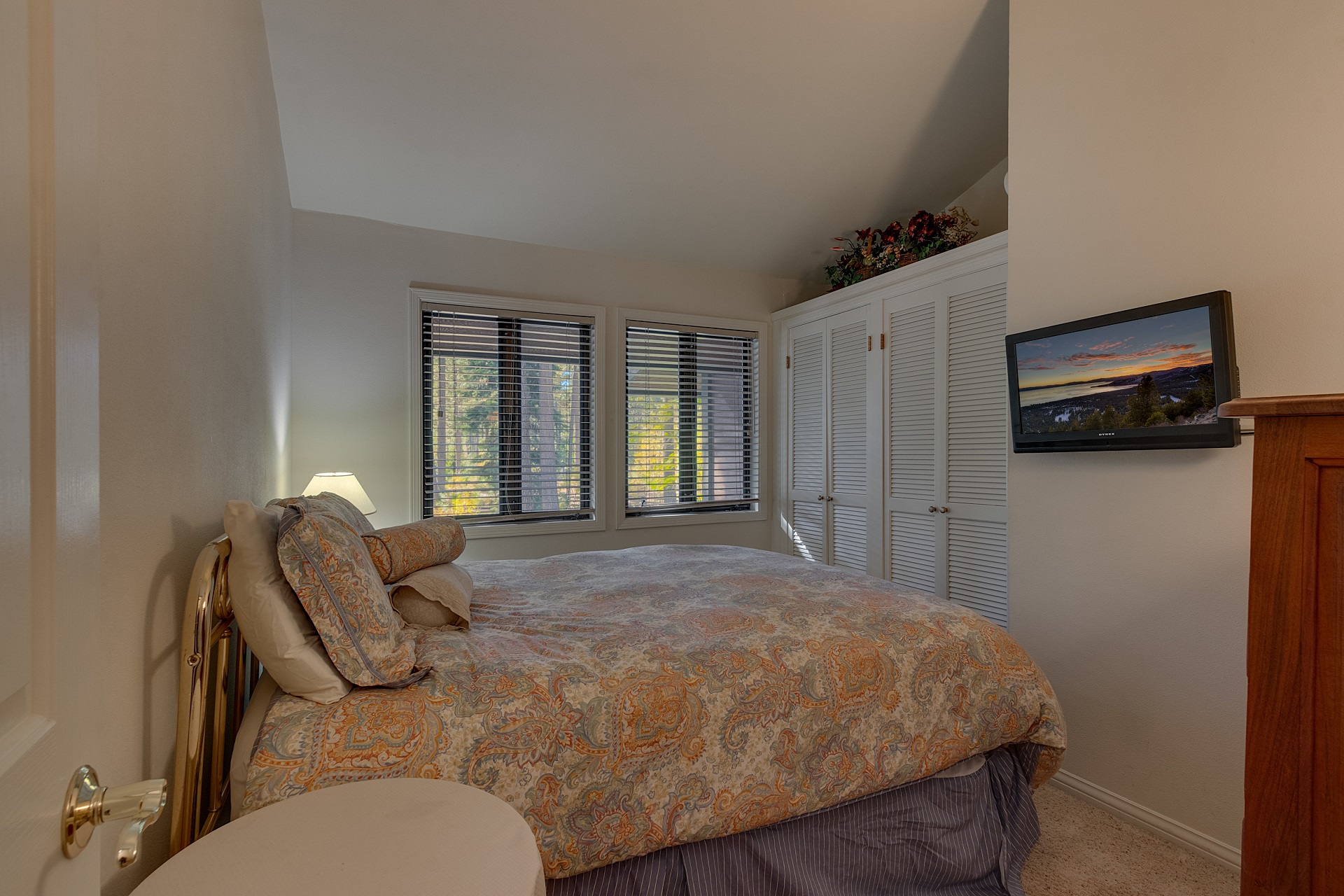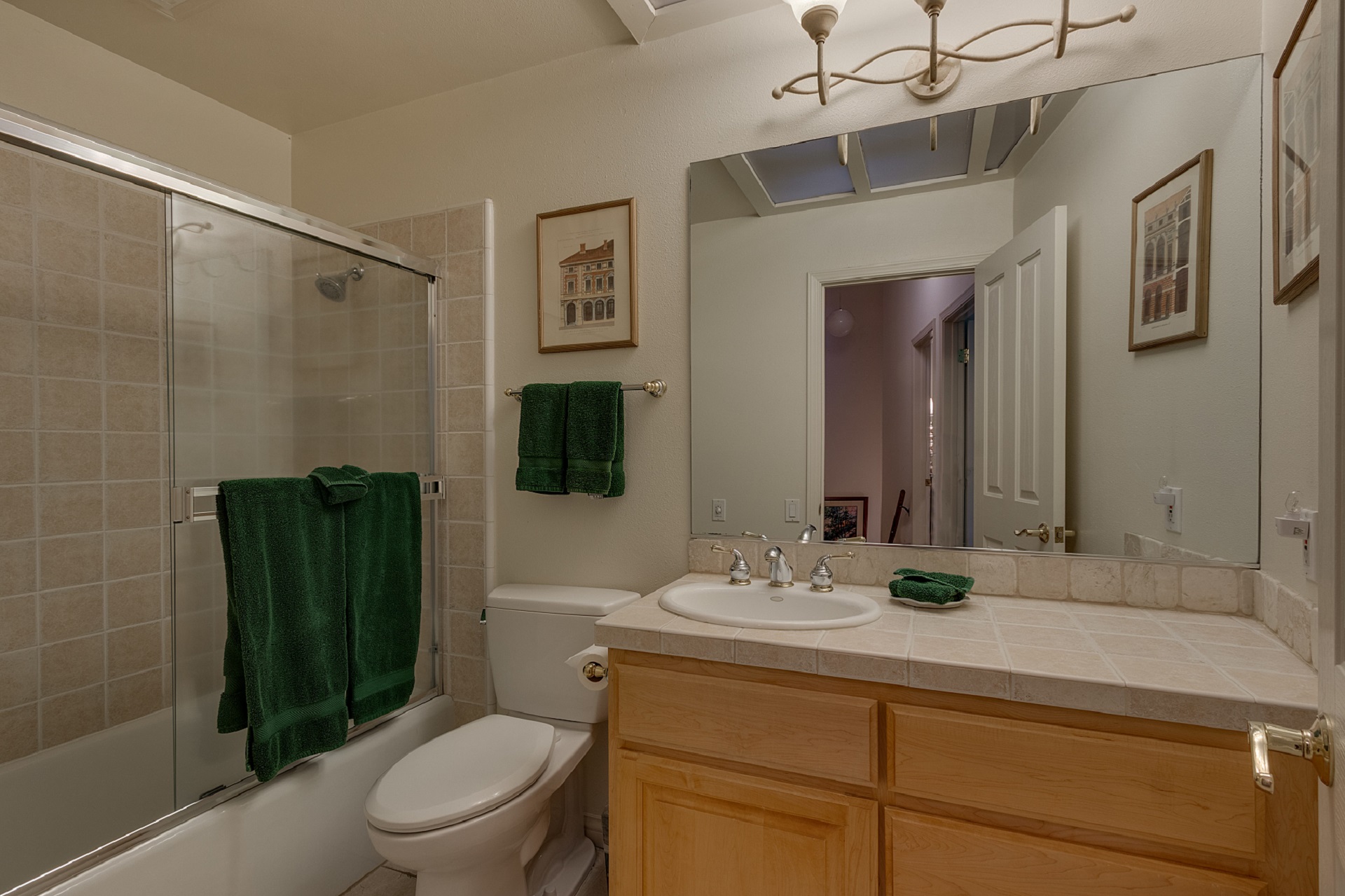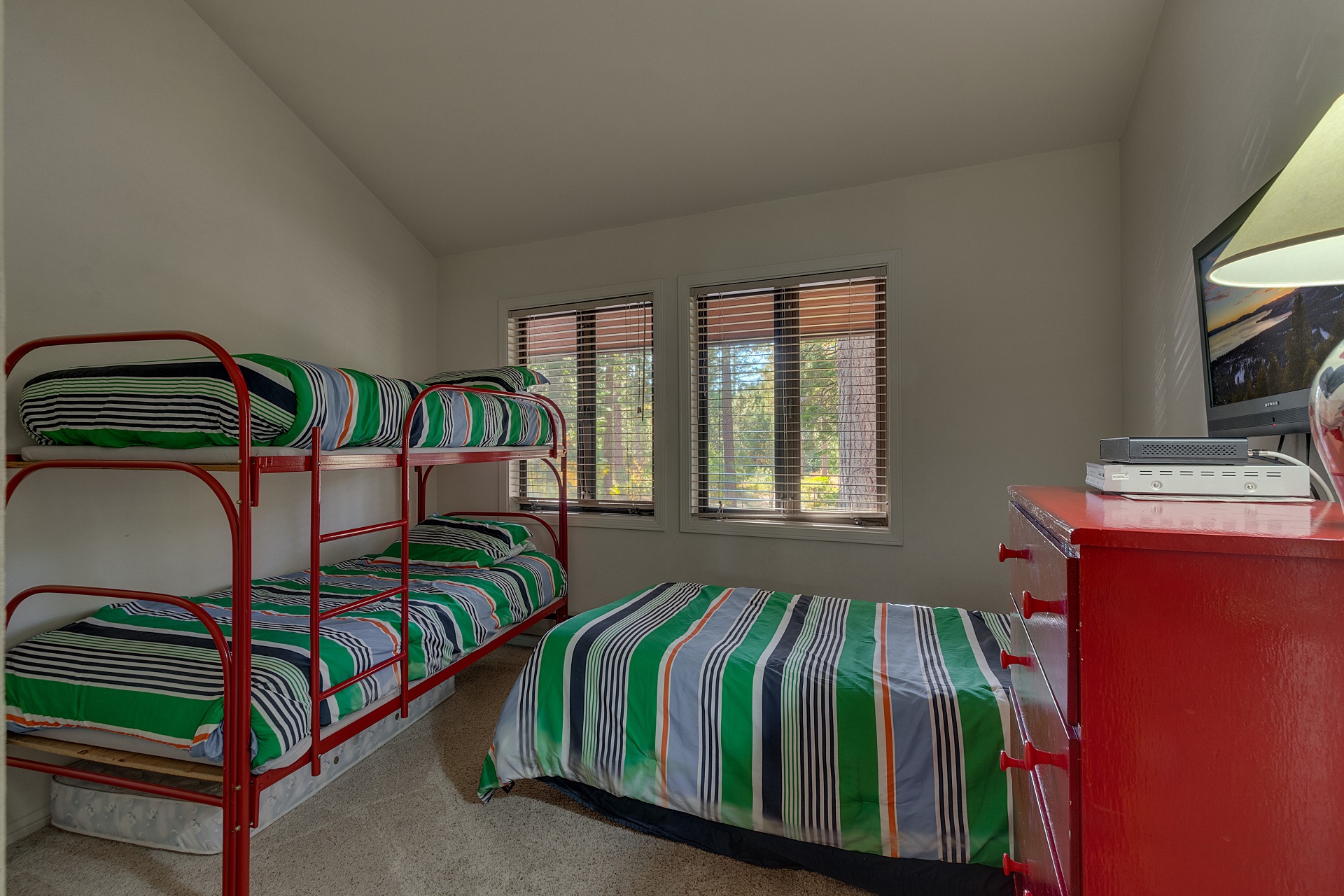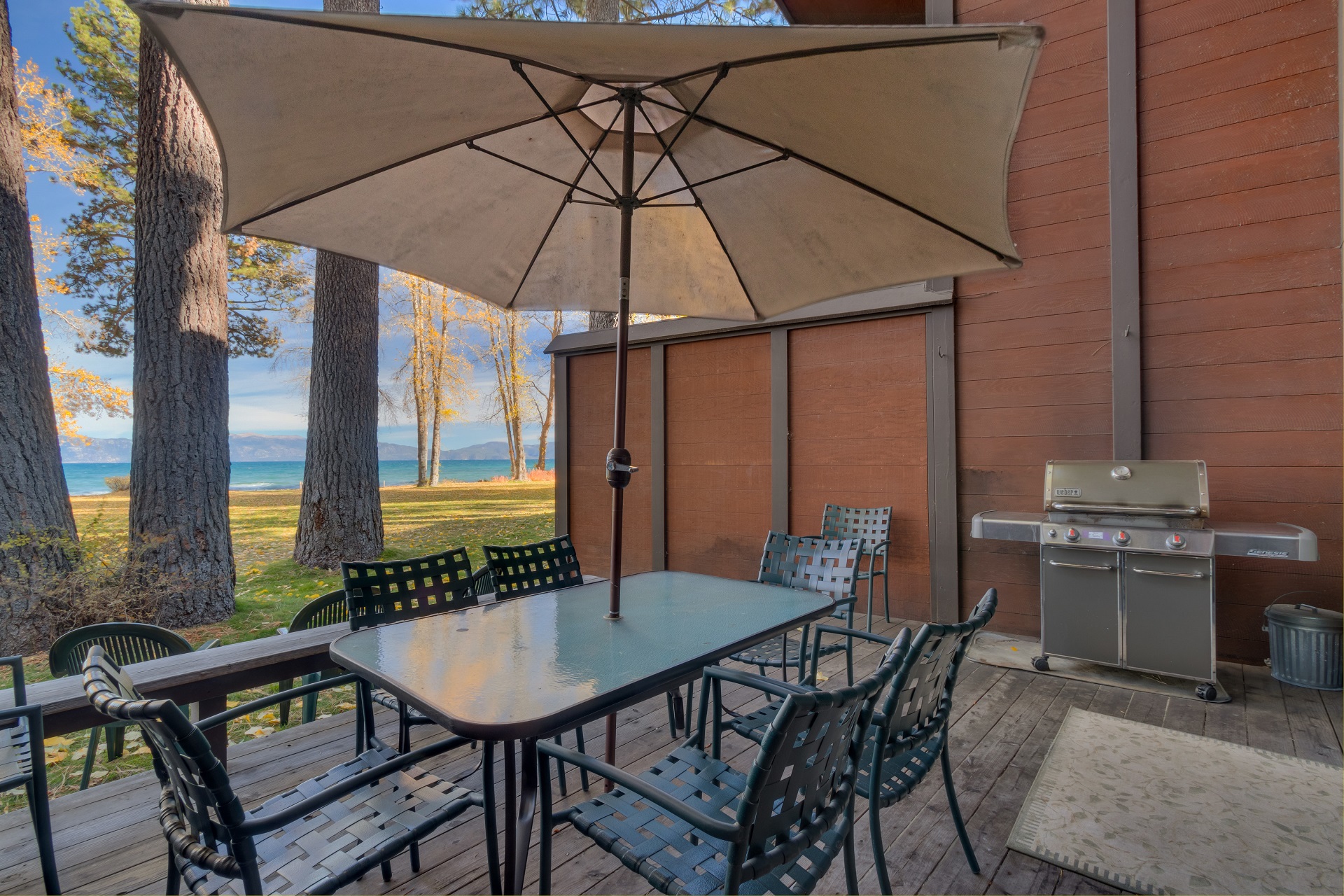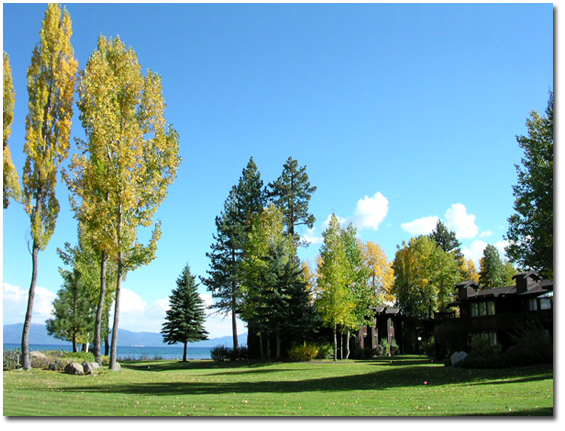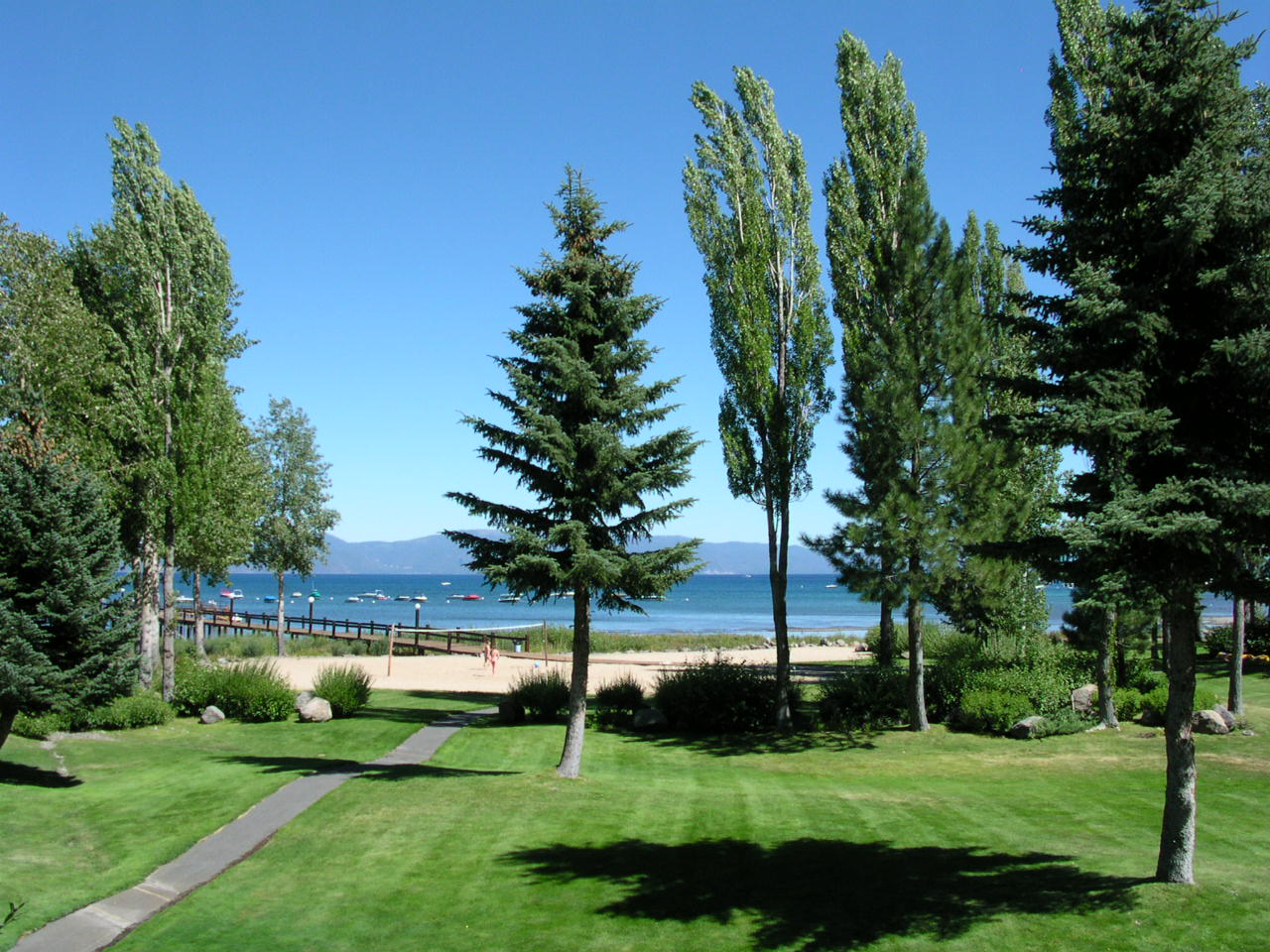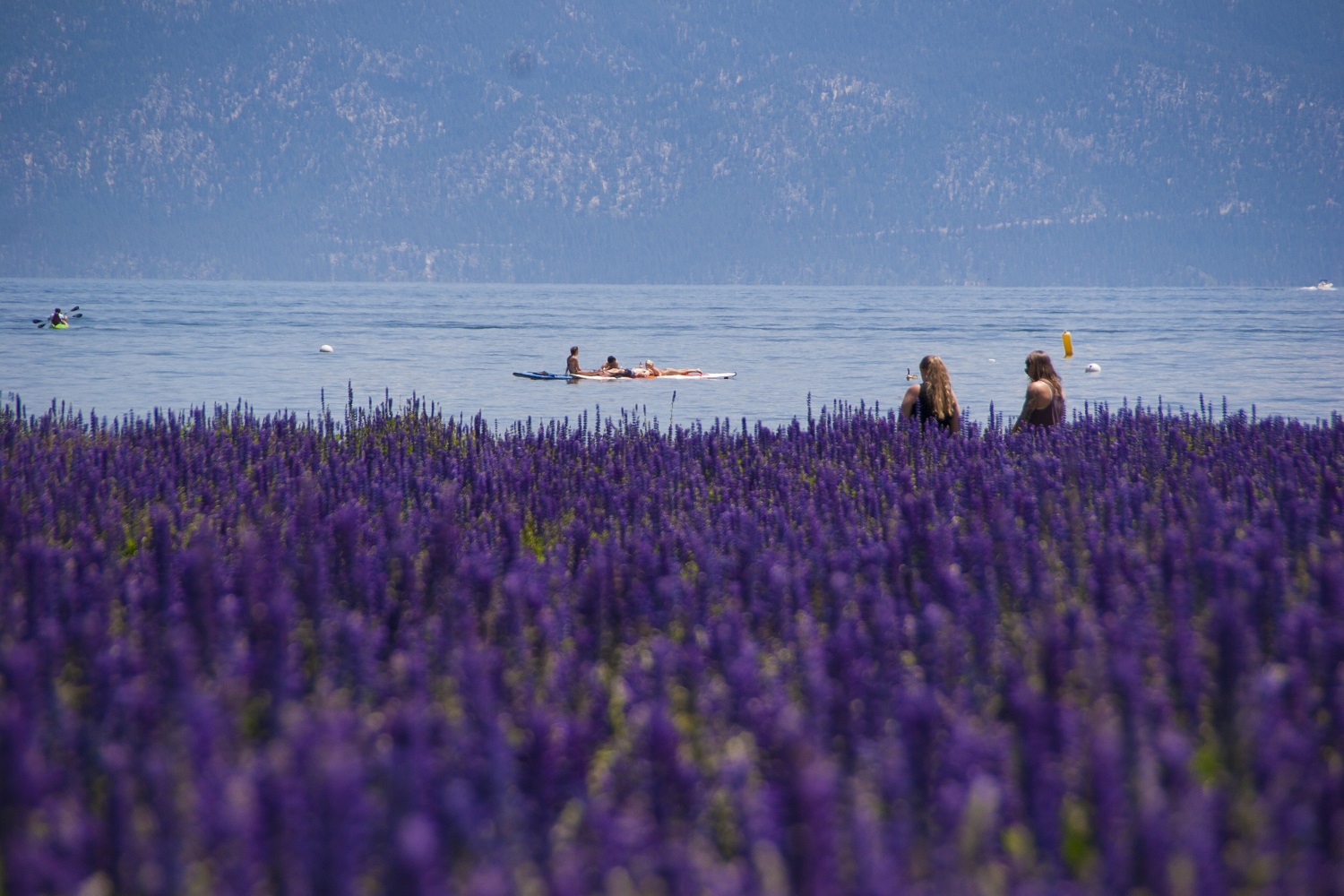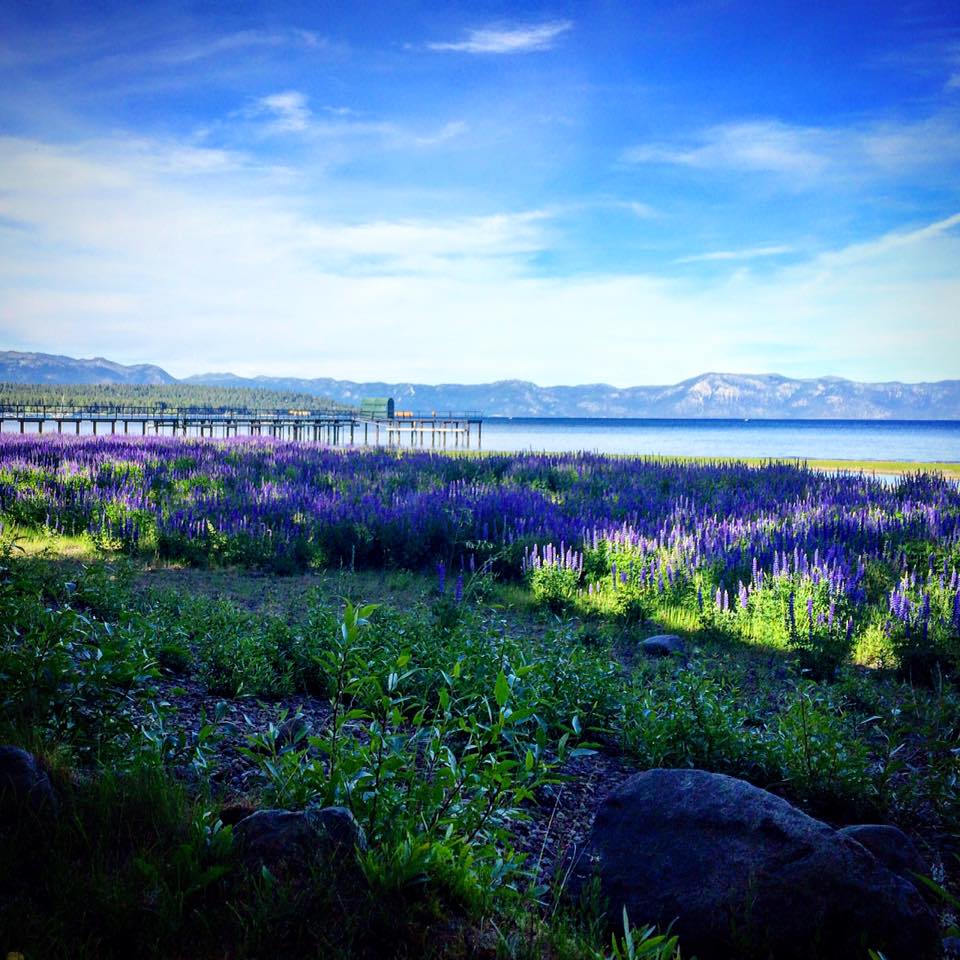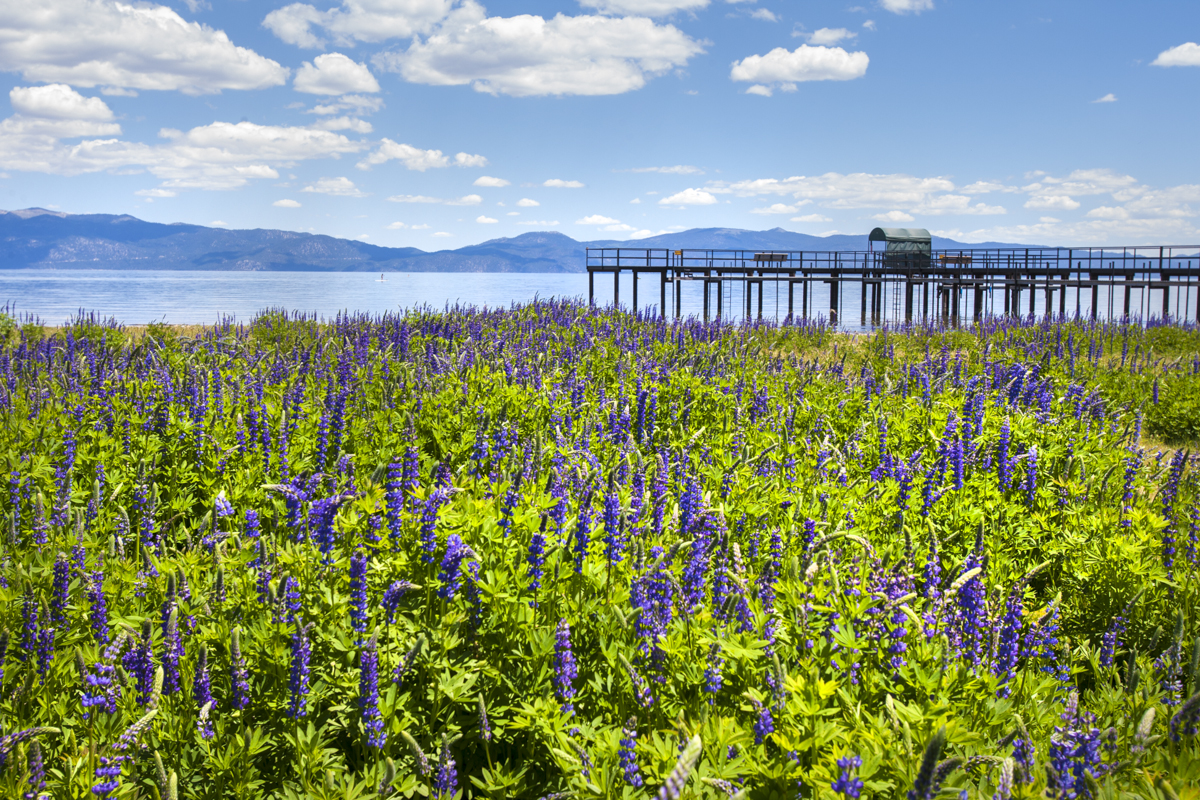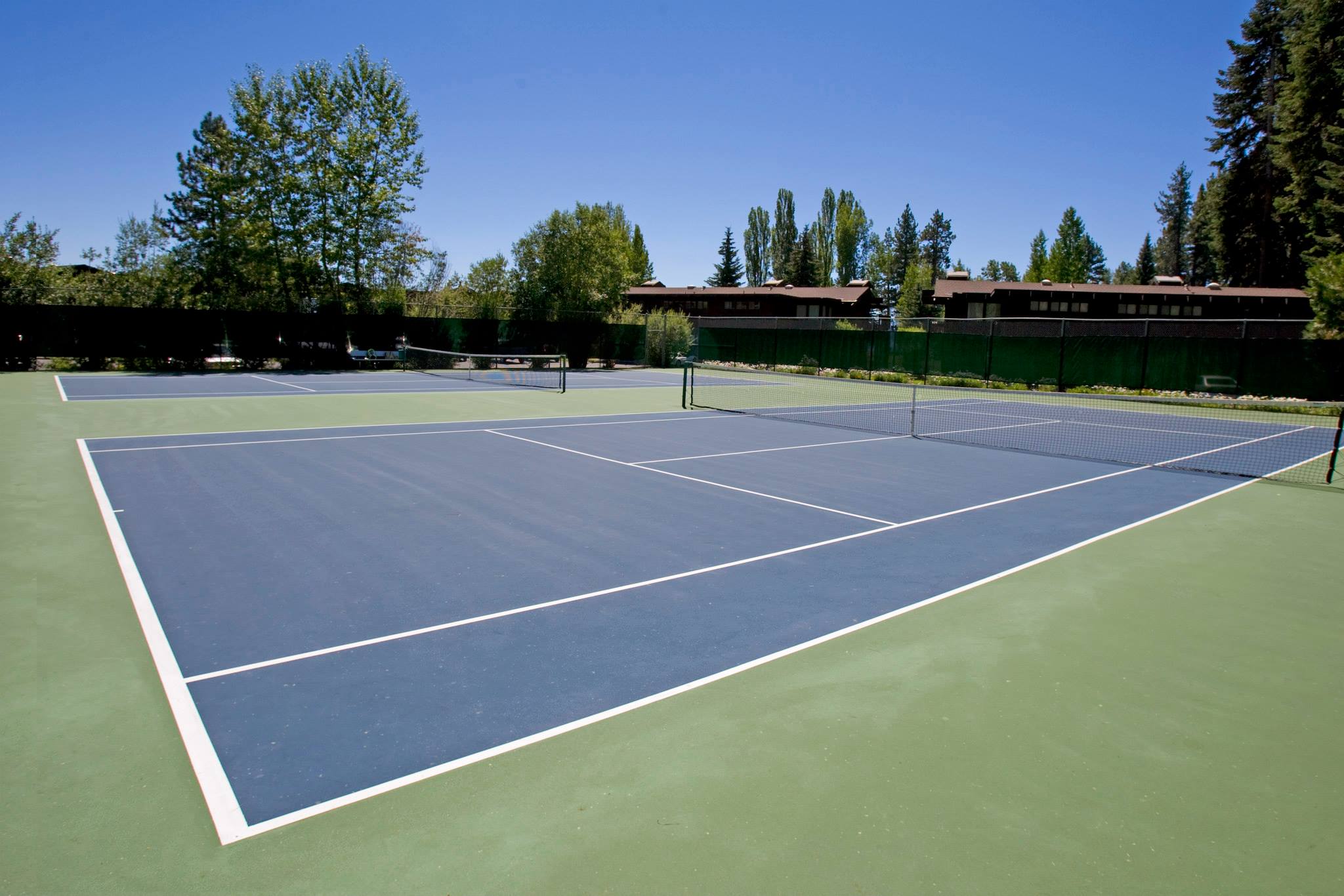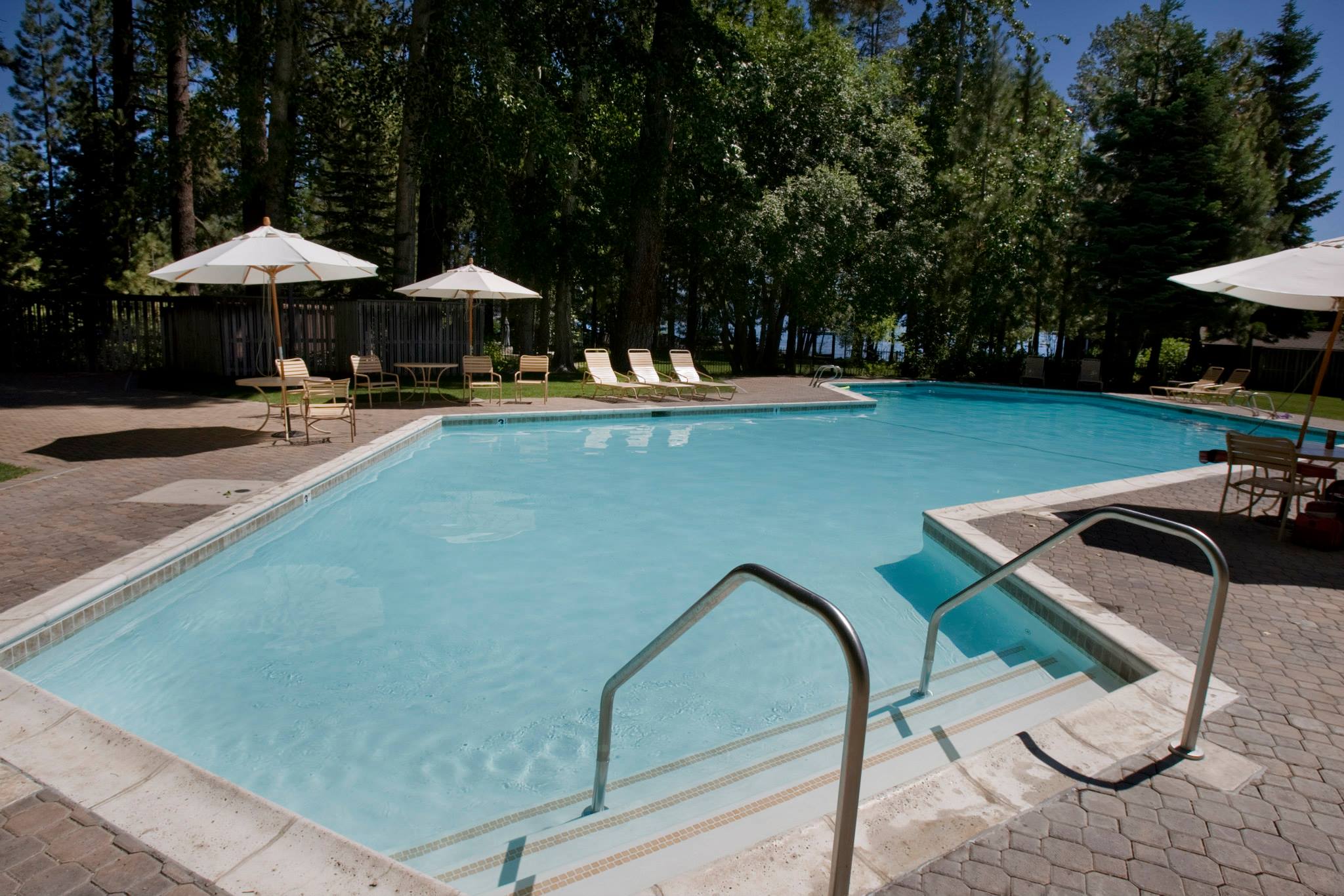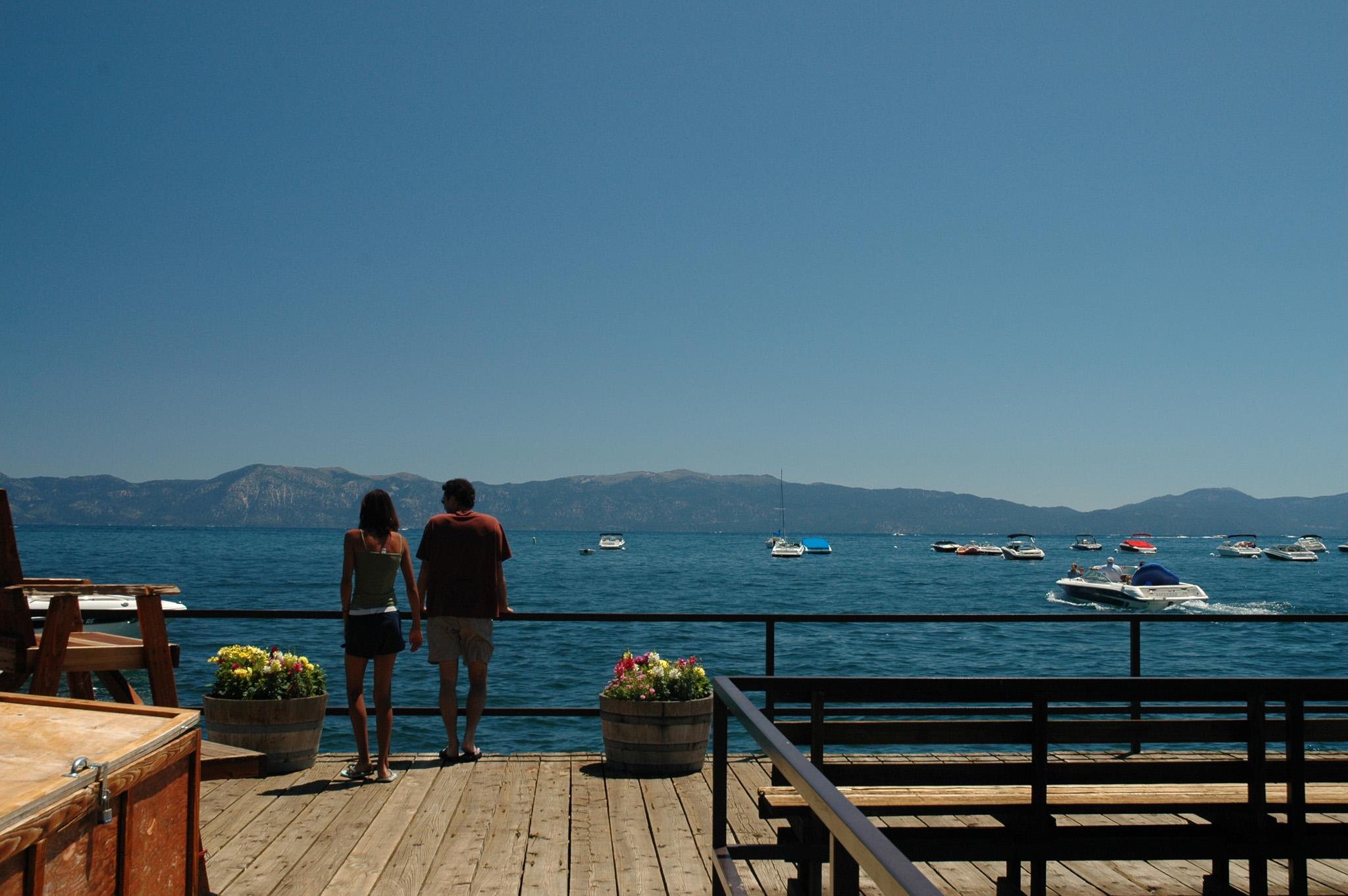 The 56 homes that make up Tavern Shores undulate like a pearl necklace along the west shore of Lake Tahoe. The string of pearls dips twice with a center broach. Each of the excursions create a manicured meadow dotted with magnificent trees. #211, situated near the center of the second wide loop of "pearls", jostles its neighbors for the best viewing spot of the expansive grand lawn opening to the lakefront, with the mountains beyond as backdrop. You and yours will be just steps from the lake shore, and afforded breathtaking views of sun- and moonrise from not only the width of your patio; but from both the down- and upstairs living areas.
There is easy access to parking. The living area is on the first level with the Lakeview directly ahead on entry. There is a rather splendid fireplace in the far corner showcasing the stunning views available from anywhere in the open floor plan. The furnishings are both comfortable and accommodating with built-in cabinetry throughout. The adjacent kitchen gleams with acres of white stone and well-crafted shaker-front cabinets. The full-size laundry and half-bath are discreetly tucked into the entrance.
The three bedrooms and two full baths are upstairs. The ensuite master bedroom has magnificent Lake views from 3 large windows. The other bedrooms look out upon the national forest. Skylights dot the hallway.
Homeowner amenities to include pier, beaches (with sand volleyball), tennis courts, pickleball and pool are steps away.
So, ready to enjoy this summer? Call now to insert your family's memories into the thousands of photos waiting to be taken in and around this specially located home!
From October to May, world class ski resorts, hiking and biking are just minutes away; and Tahoe City restaurants and shopping are just out of sight and hearing, a remarkably few yards away.
Make #211 your family's jewel!
---
T a v e r n  S h o r e s,  # 214
3  B E D R O O M ,  2.5  B A T H  – JUST STEPS FROM THE LAKE!
L I S T E D   A T 

$ 2, 000 , 0 0 0
The opportunity to own an entry level home at Tahoe Tavern Properties has come knocking!
A turnkey home has become available front and center to everything: a grassy meadow and within a few steps the lake, pier and buoy field, sand volleyball, swimming pool, tennis, and the bike path. The walk to town is equally short.  A quick dinner or your morning coffee on the banks of the Truckee River is just a 3 minute walk.
This home enjoys a Lake View location with views of the lake from both levels.  The layout is standard in a family of four townhomes, with the living room sunken, and the adjoining dining room and kitchen filling out the lower level. The space is newly recast with an especially attractive use of redwood accents against light colored walls and ceilings. The renewed kitchen sparkles.
There are three bedrooms and two baths on the upper level. Two are large; all have window walls, and the en-suite master holds the front corner, and is light during the day, with a cathedral ceiling. It and the middle bedroom enjoy nice views of the lake. The west bedroom has bunk beds, for the young or agile, and a peek of the lake.
Nothing needs doing in this well-finished home, except relaxation and immersion in the magic of Lake Tahoe. Unless, of course, you want to acquire a boat to extend your pleasure and adventure to exploring Lake Tahoe and its beautiful shores.
Tavern Shores #214 Awaits Your Pleasure!
SOLD!
---
T a h o e  T a v e r n  T o w n h o m e  # 90
3   B E D R O O M ,  2  B A T H  –  FOREST V I E W
L I S T E D   A T  $1,300,000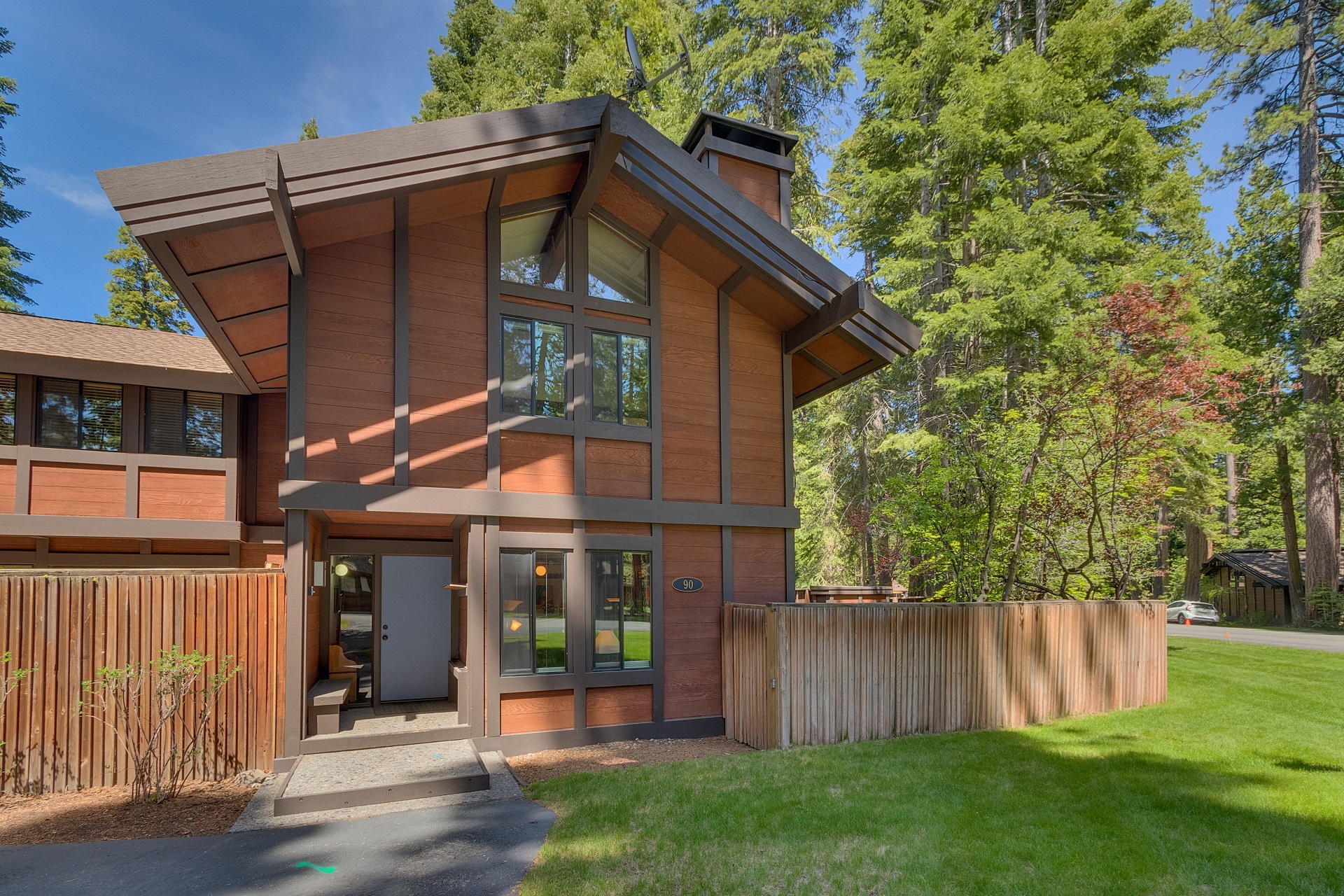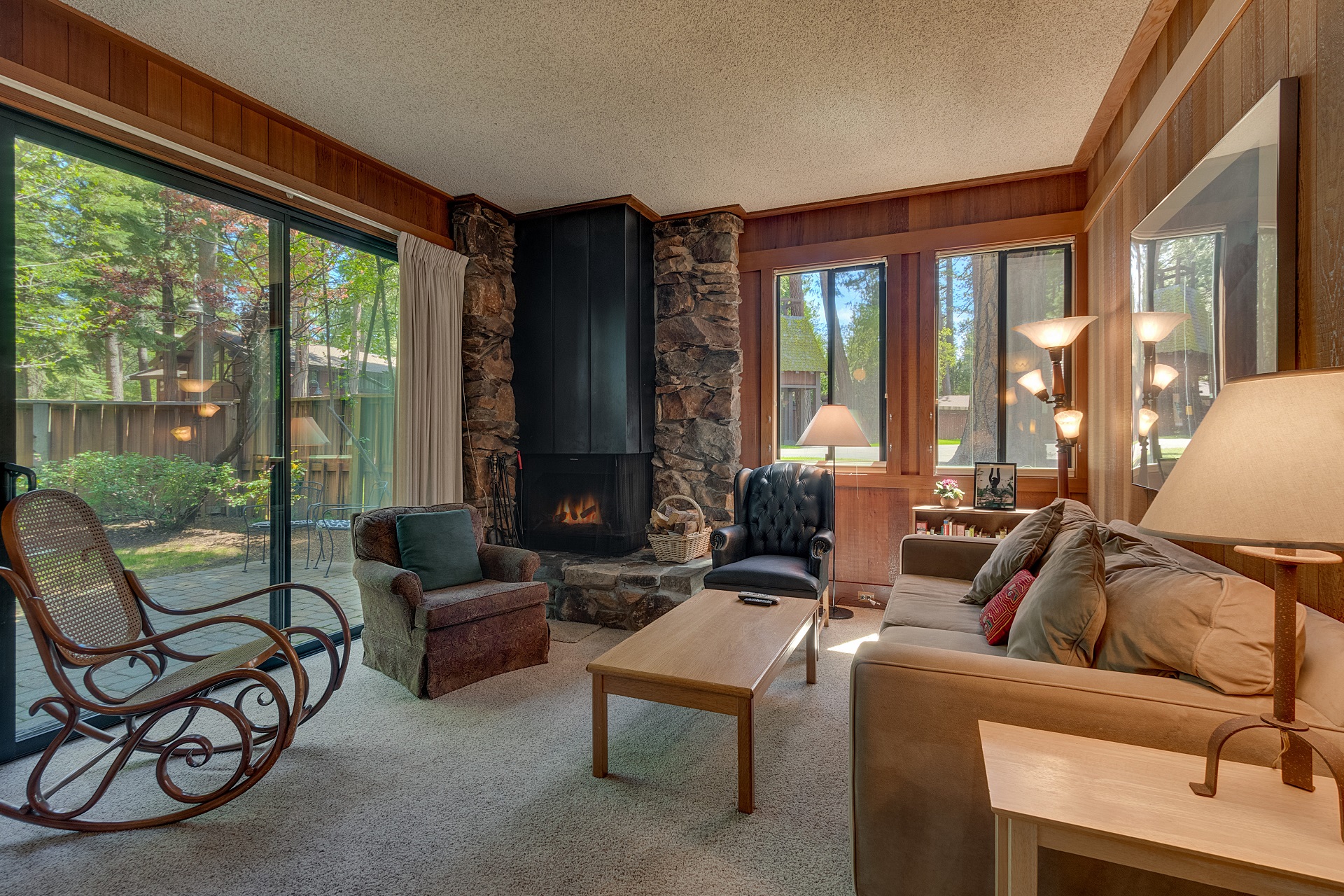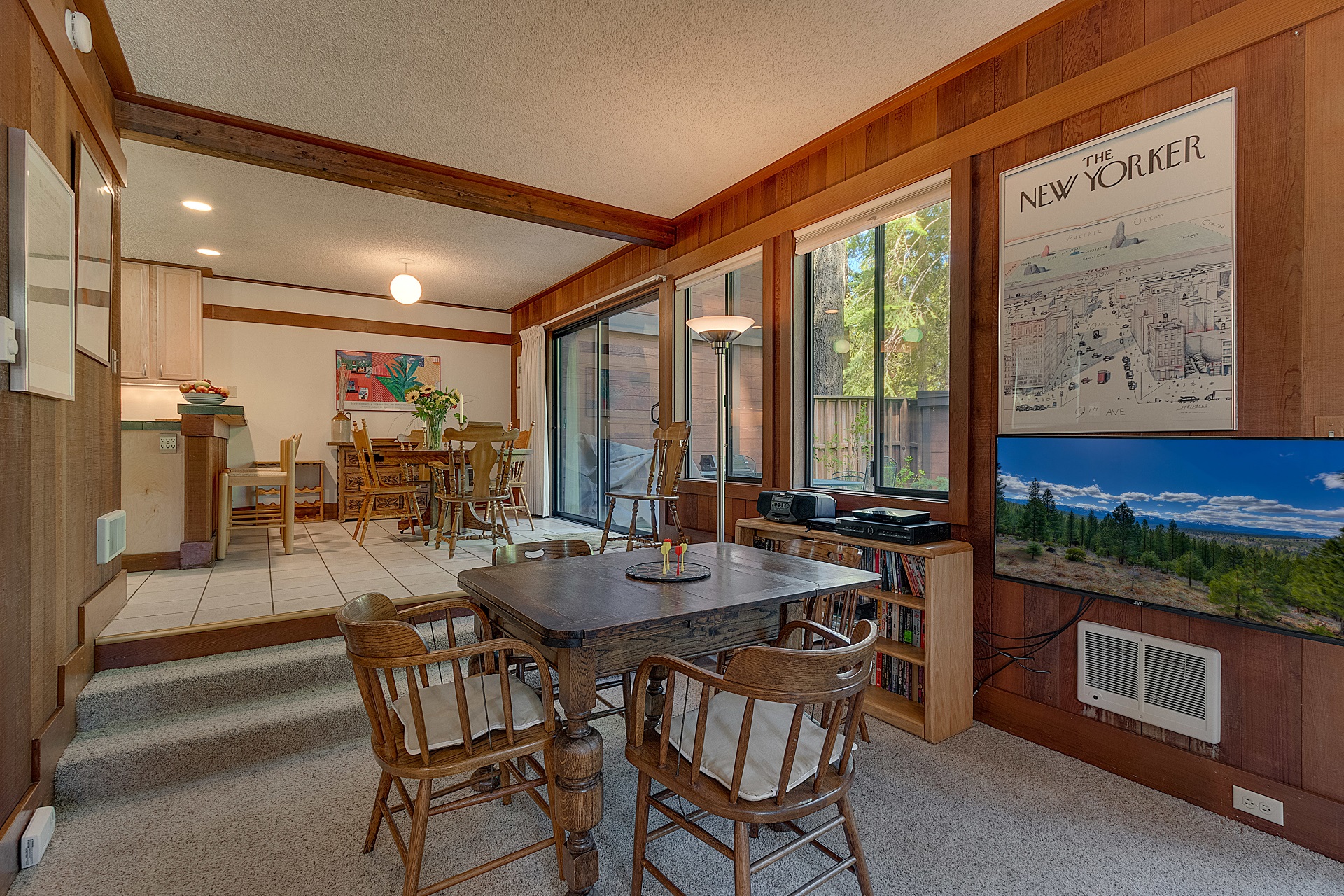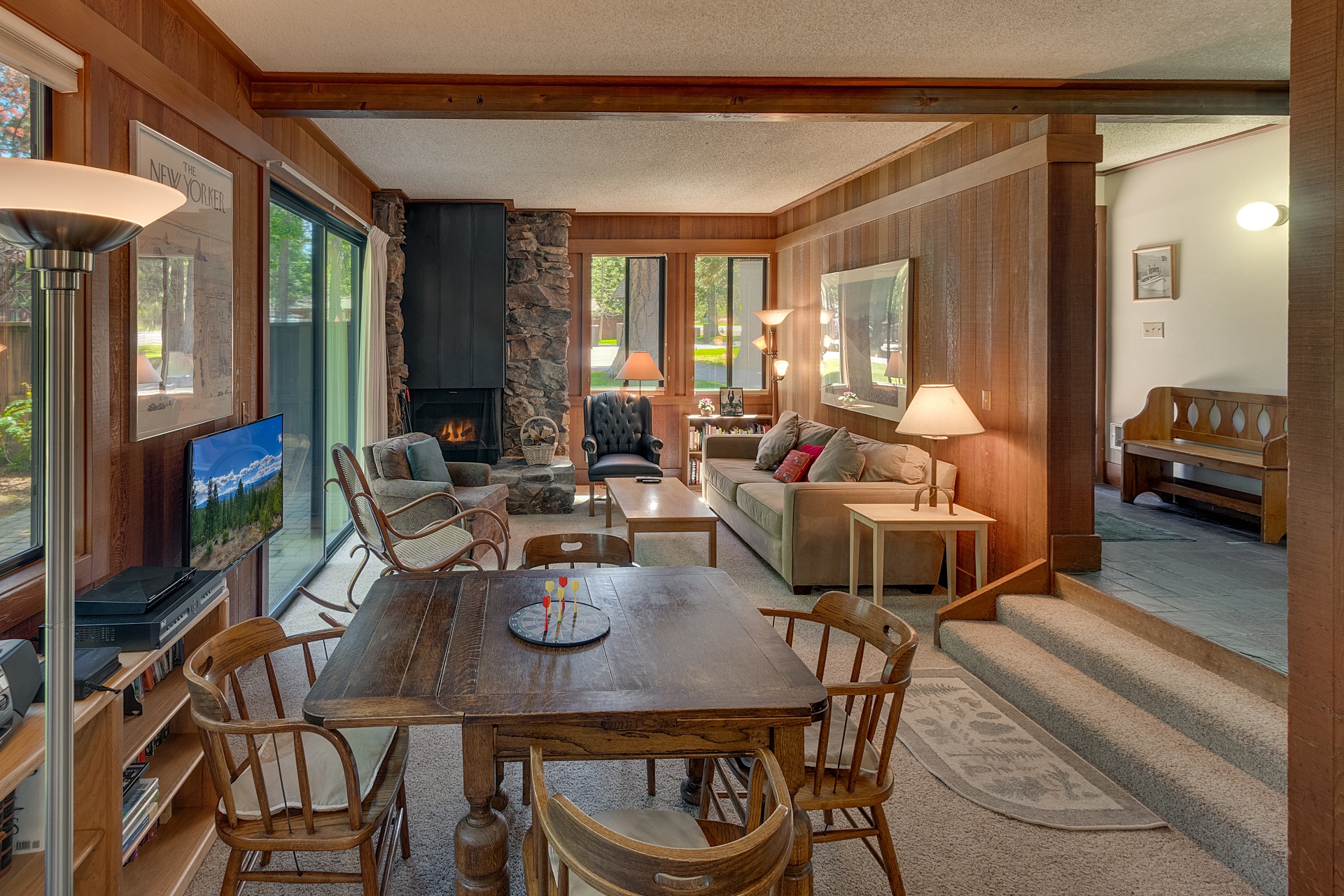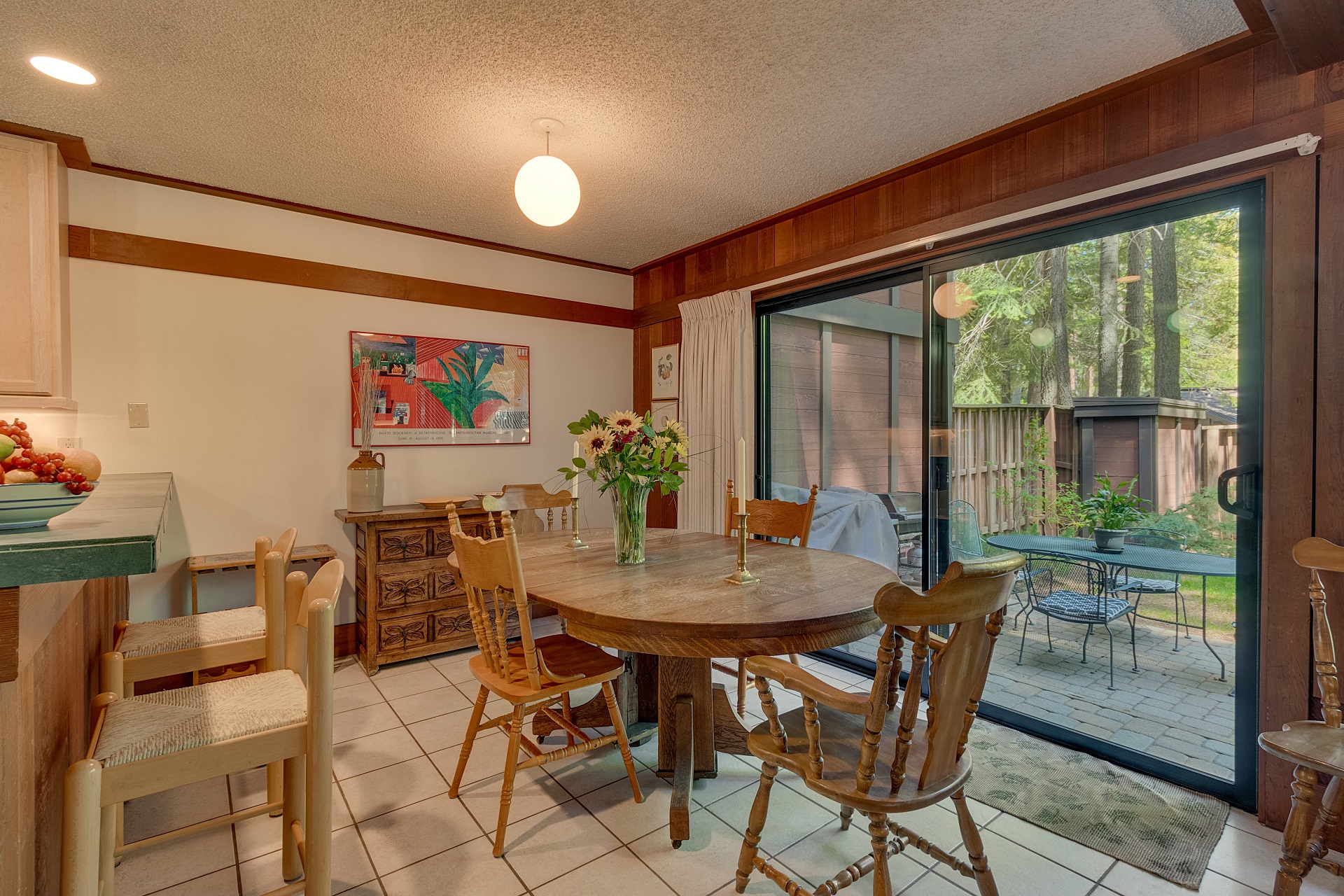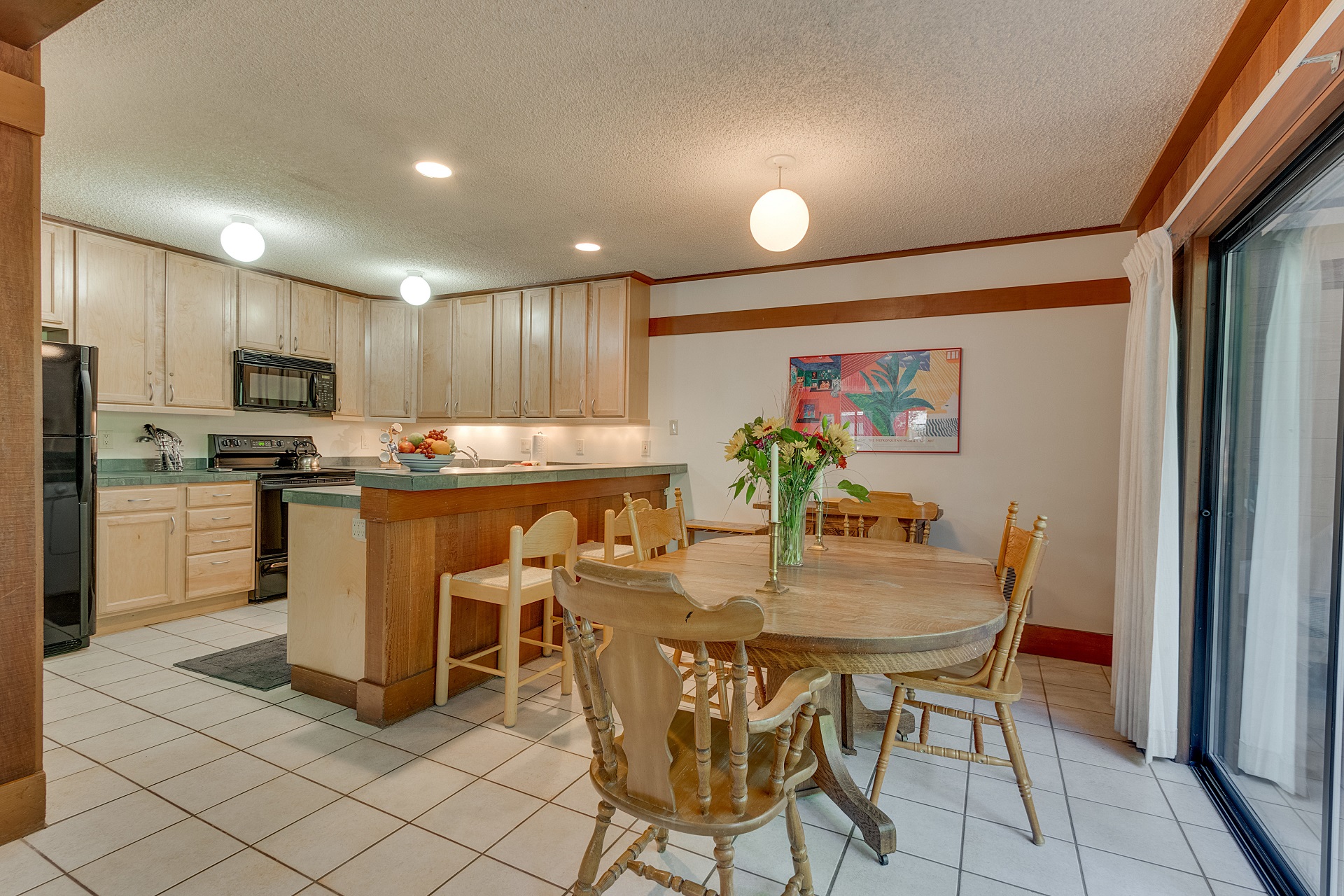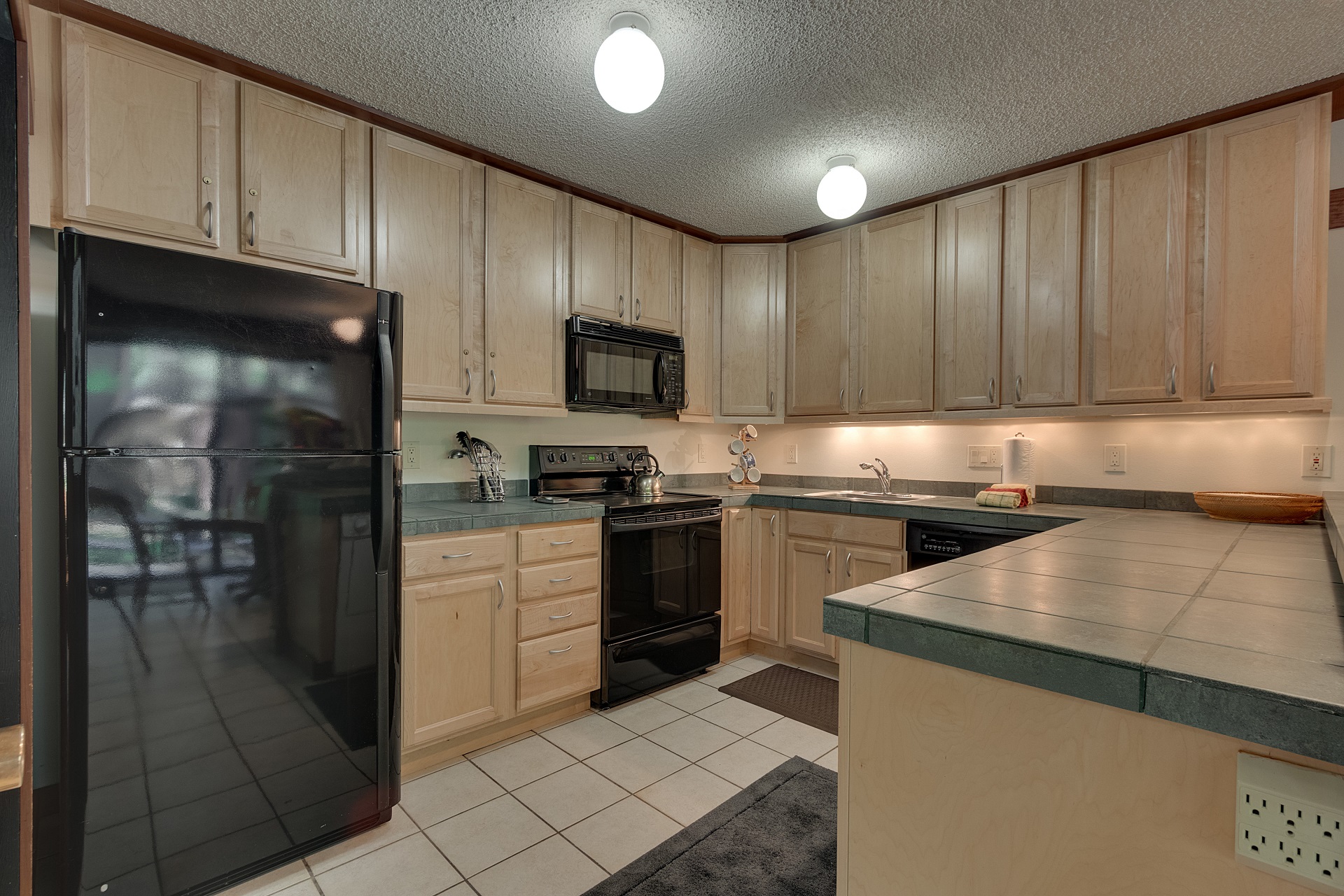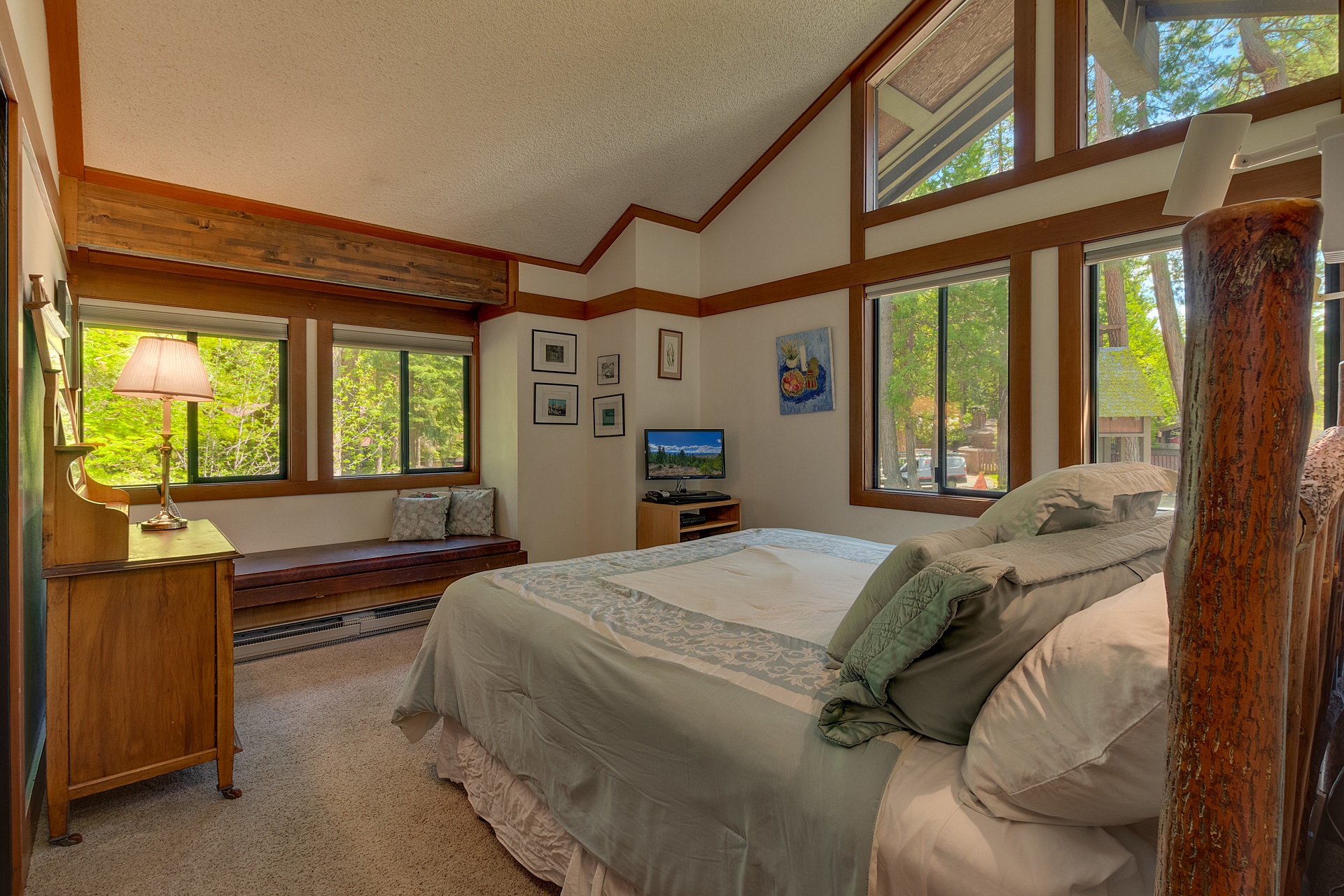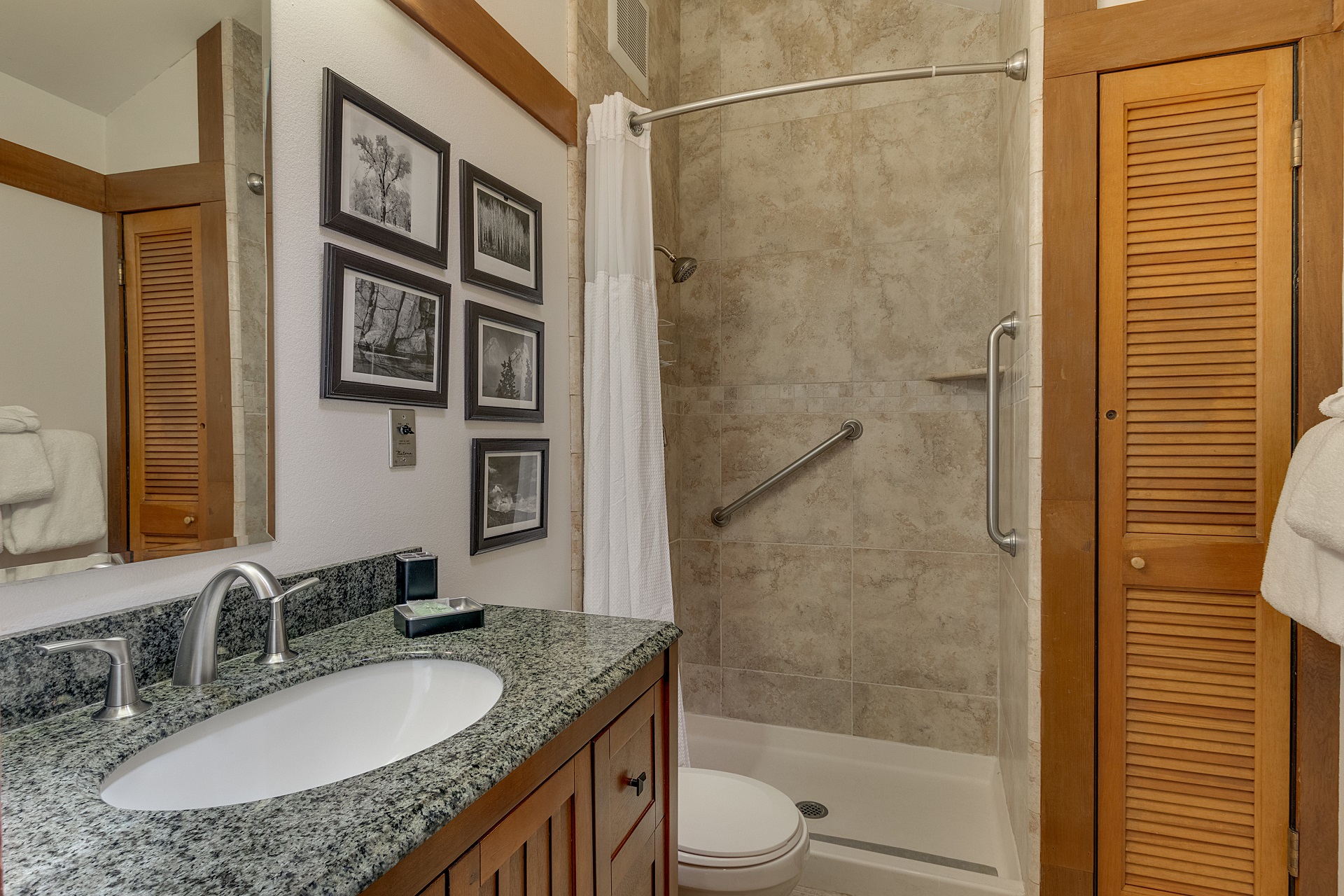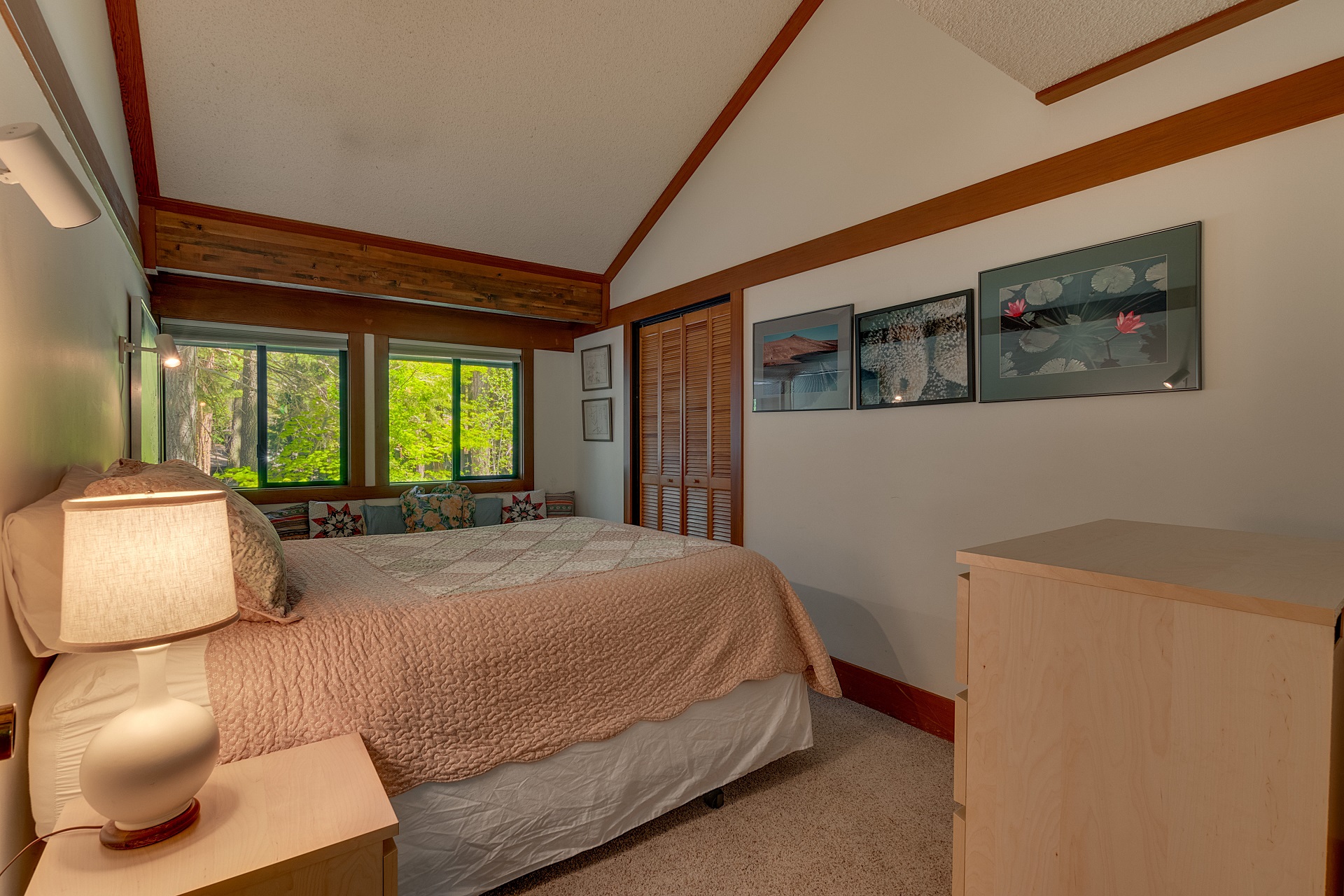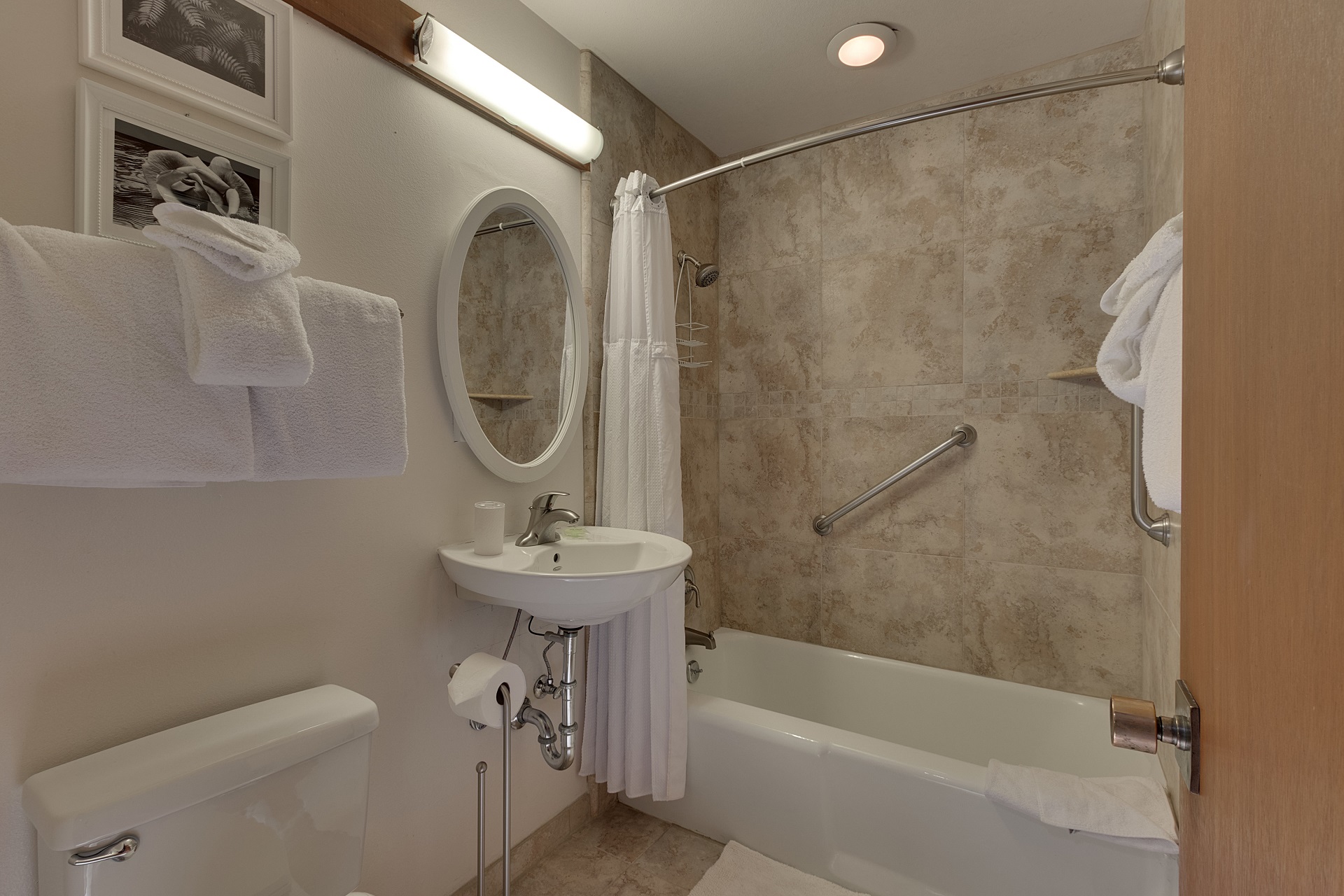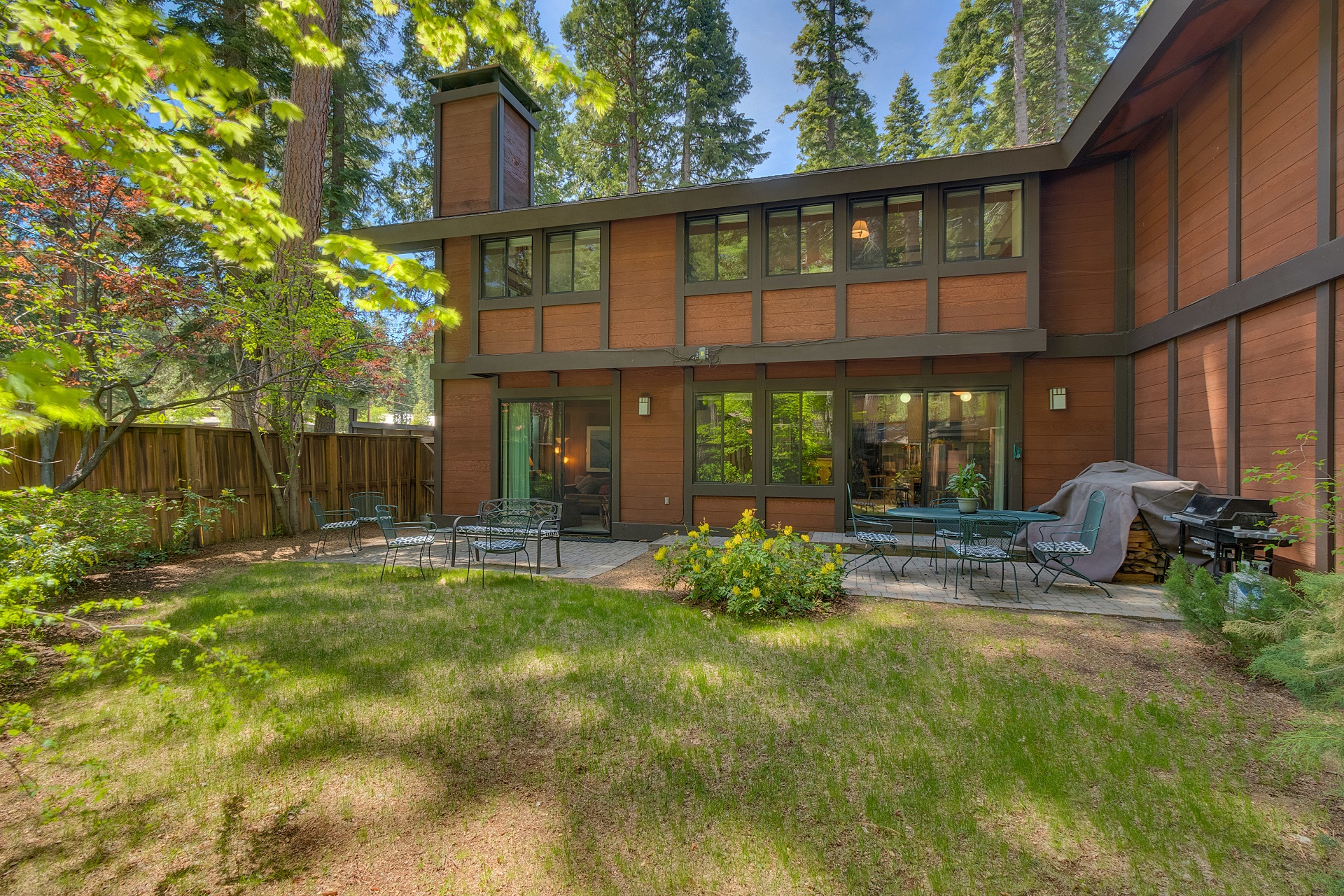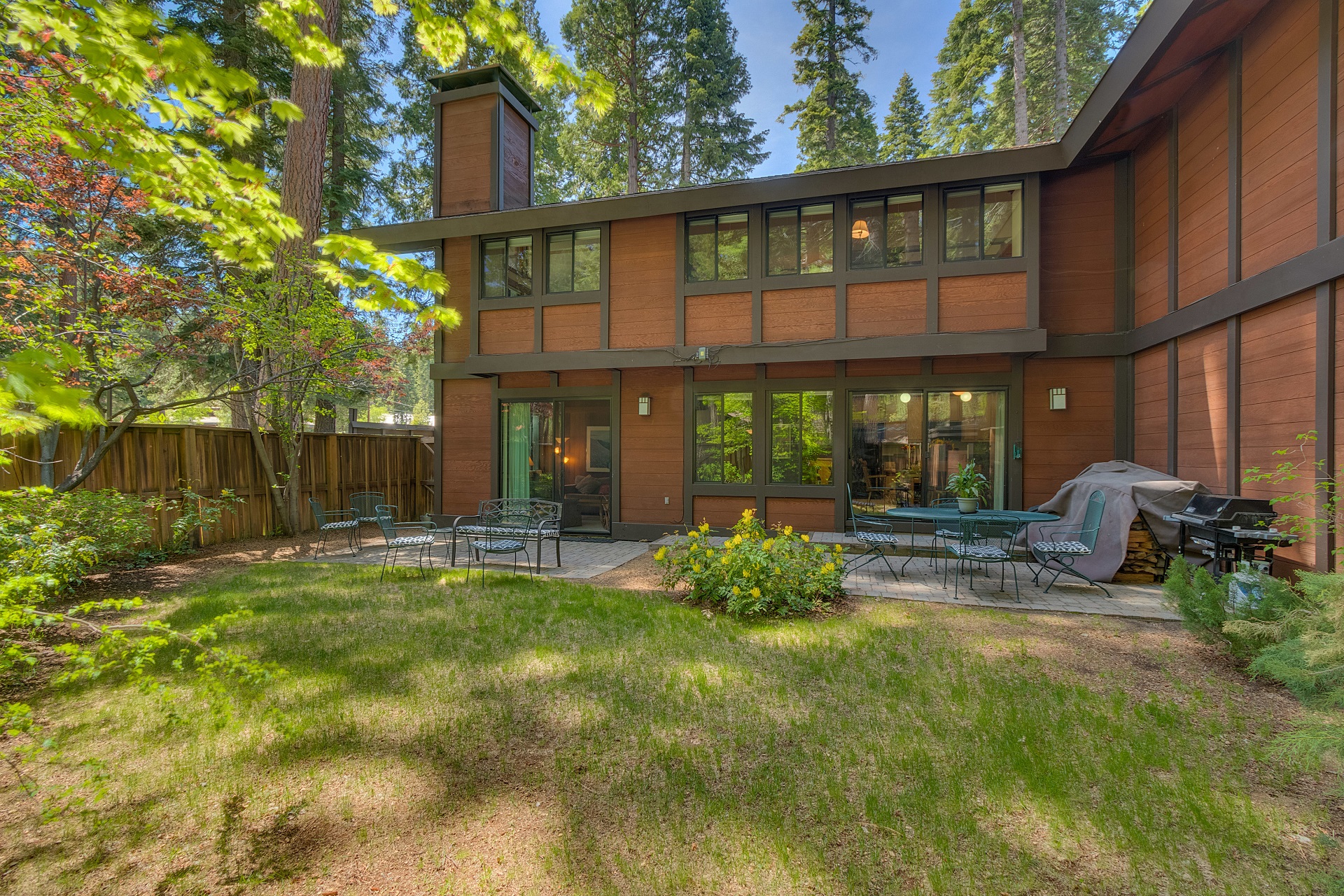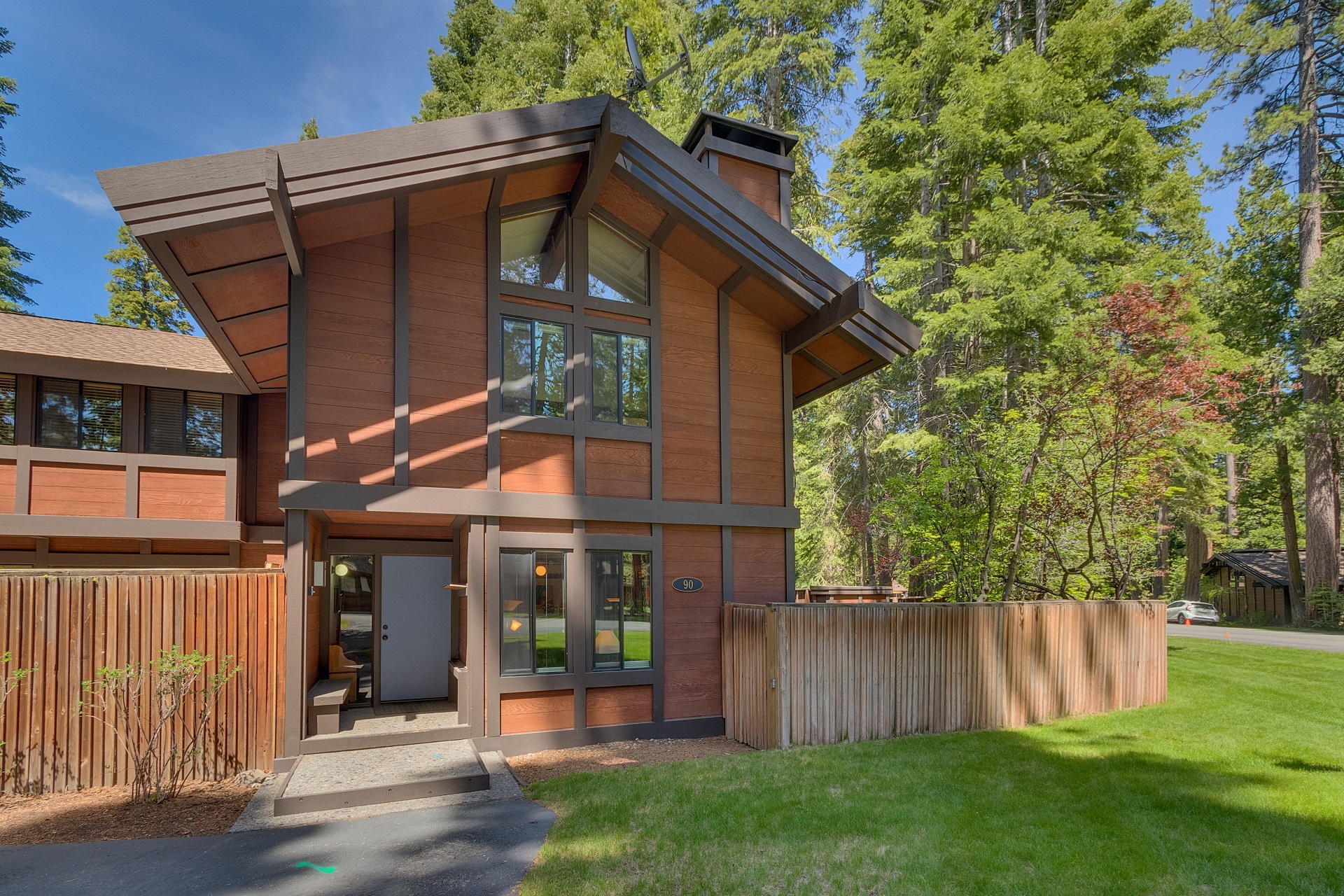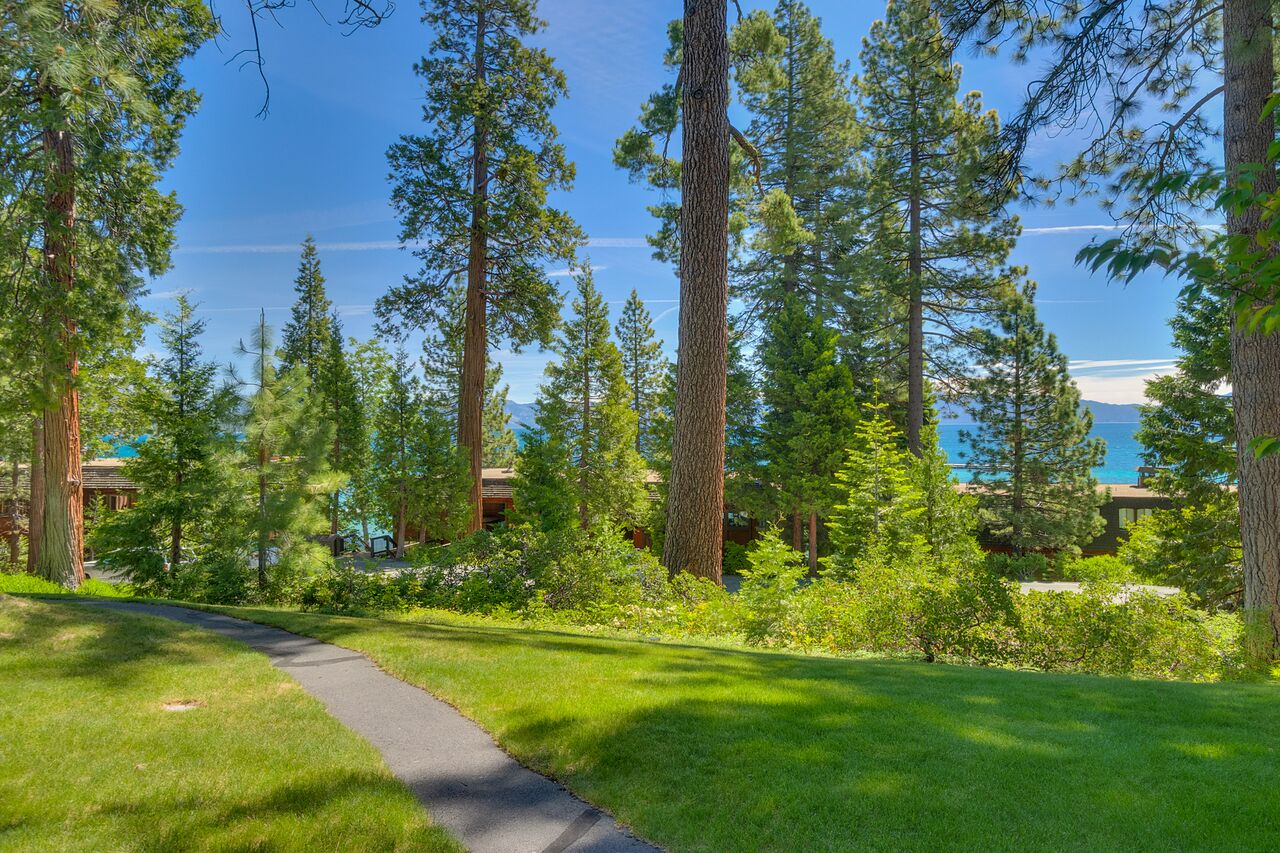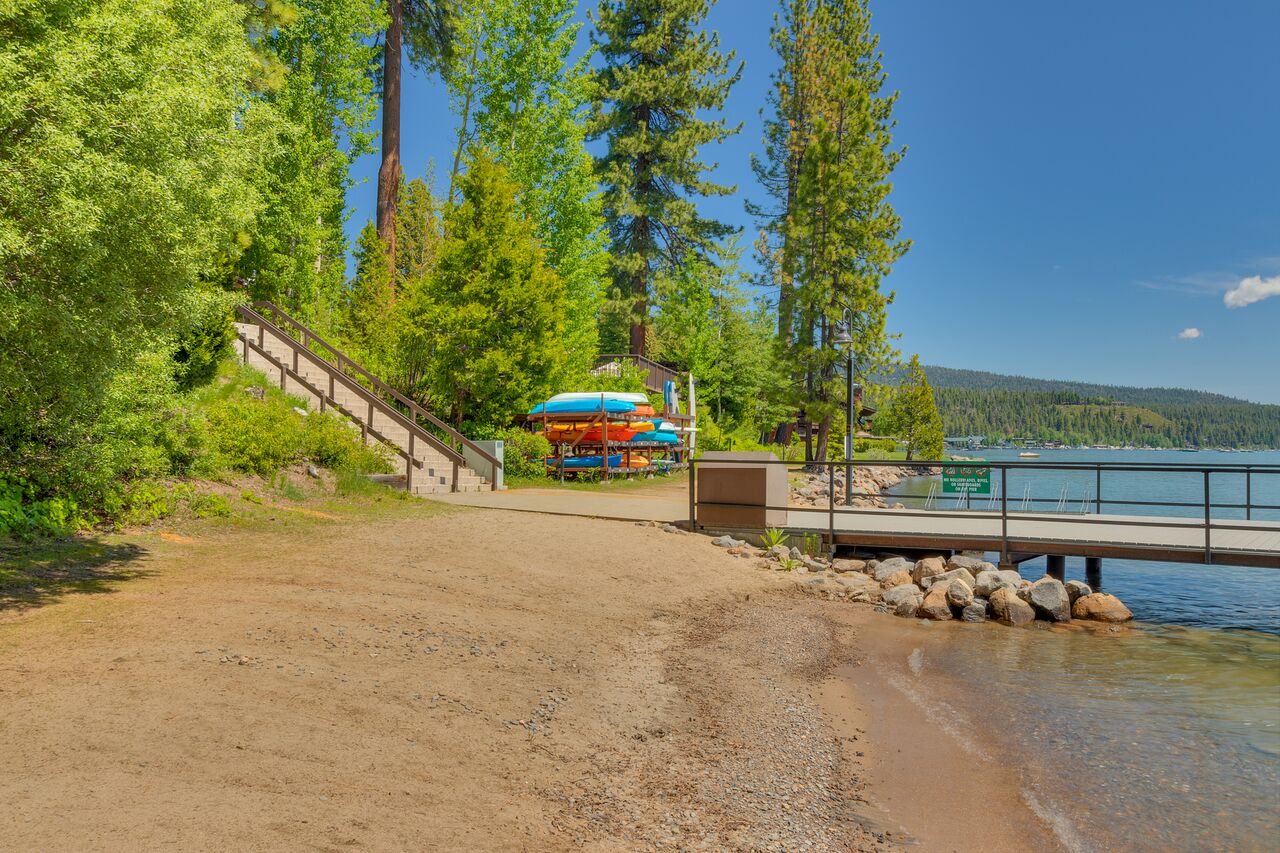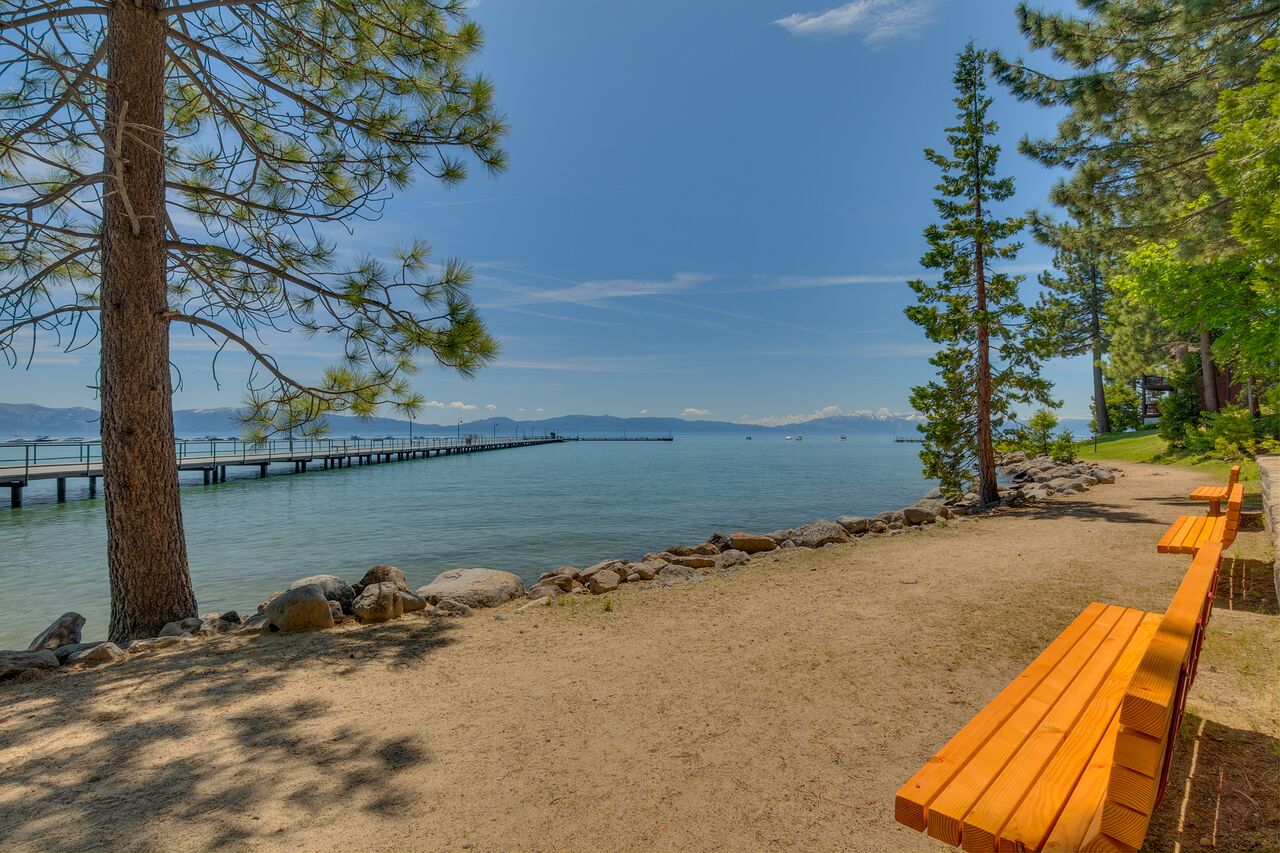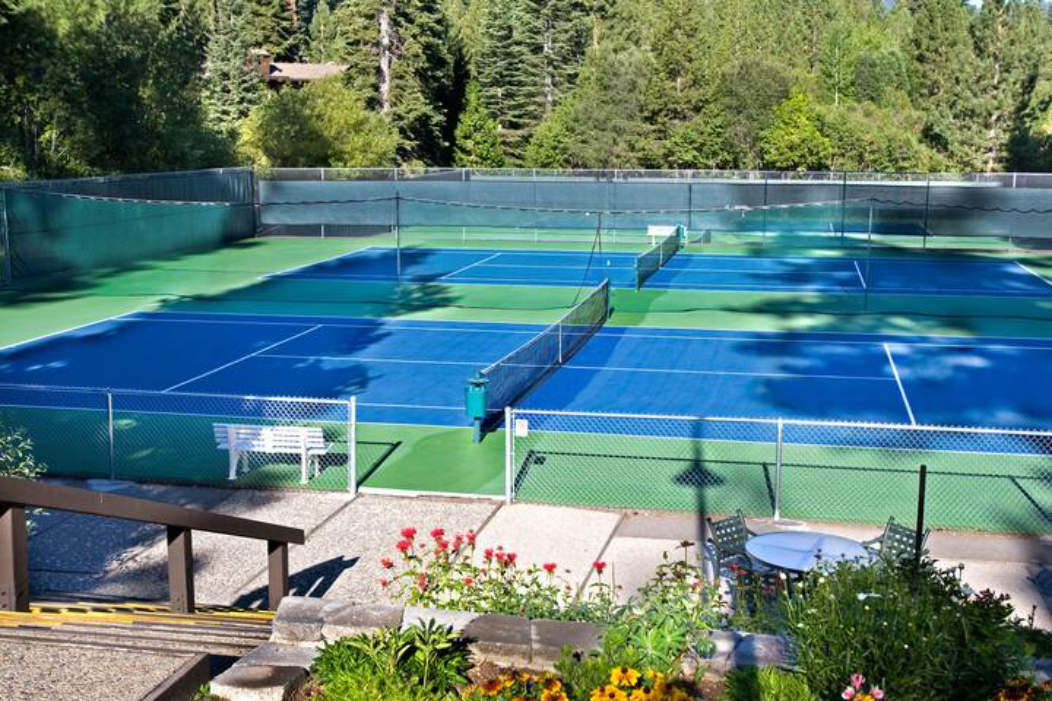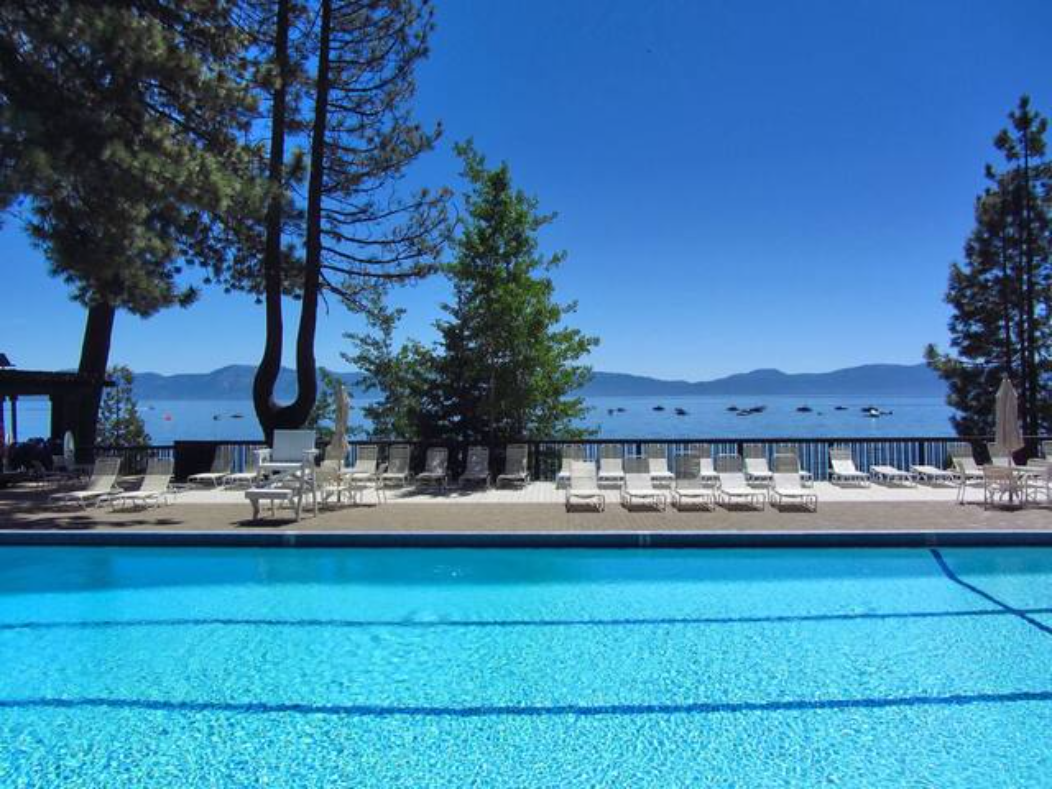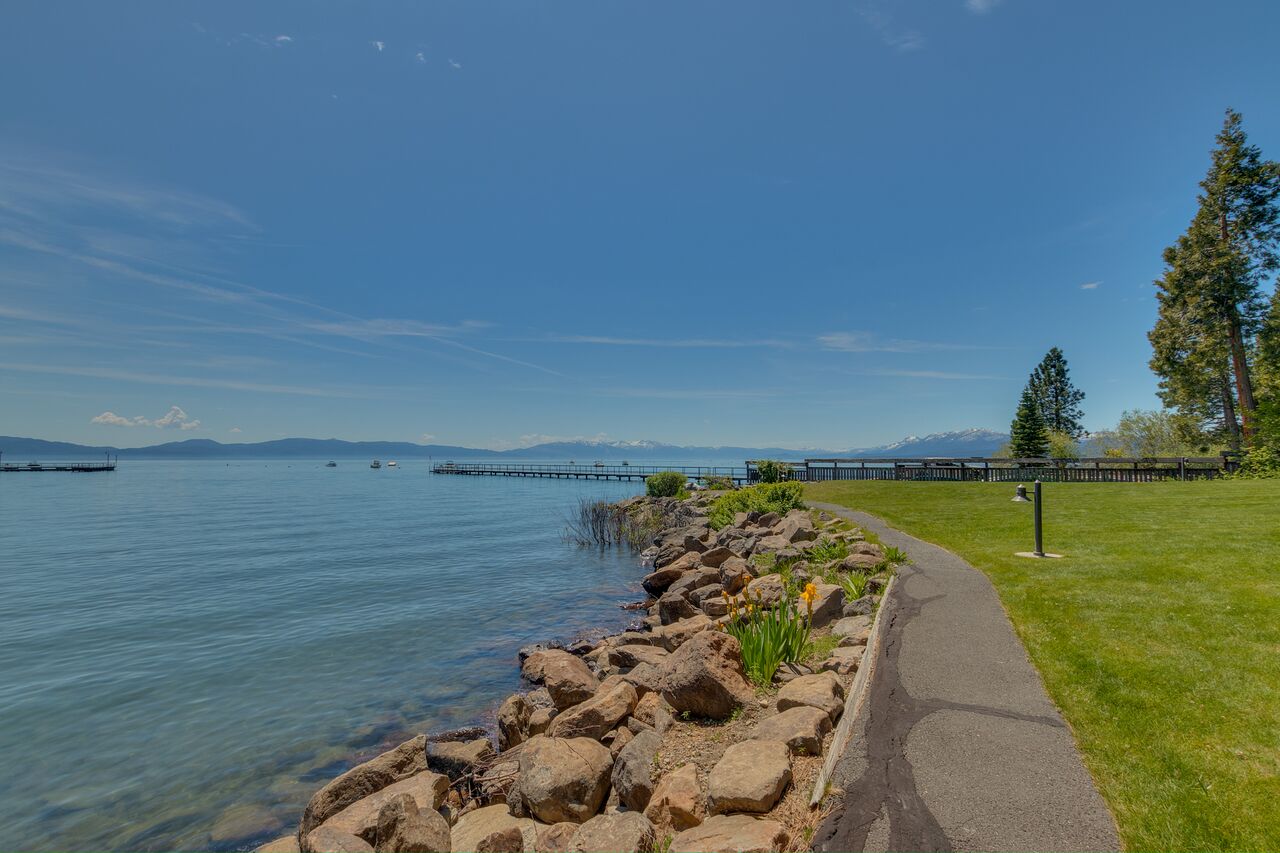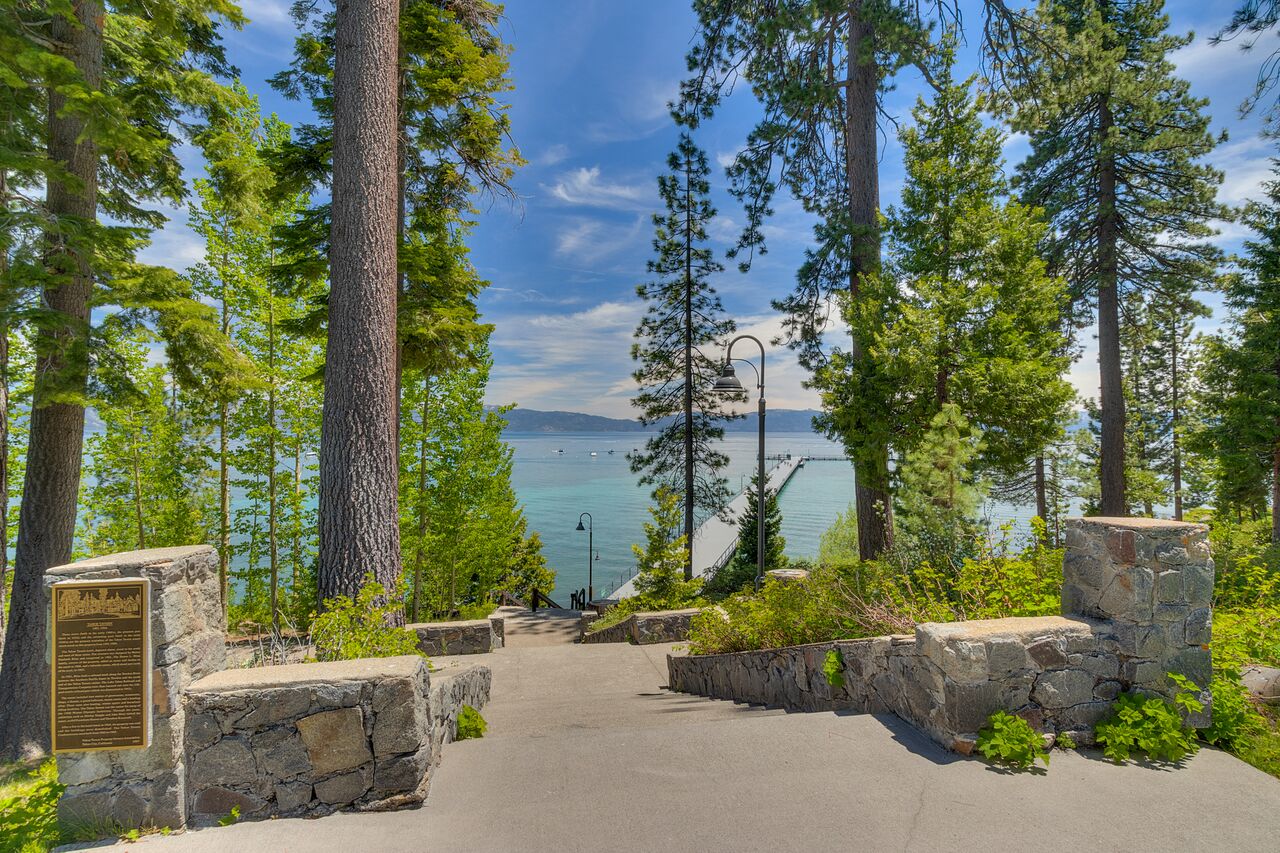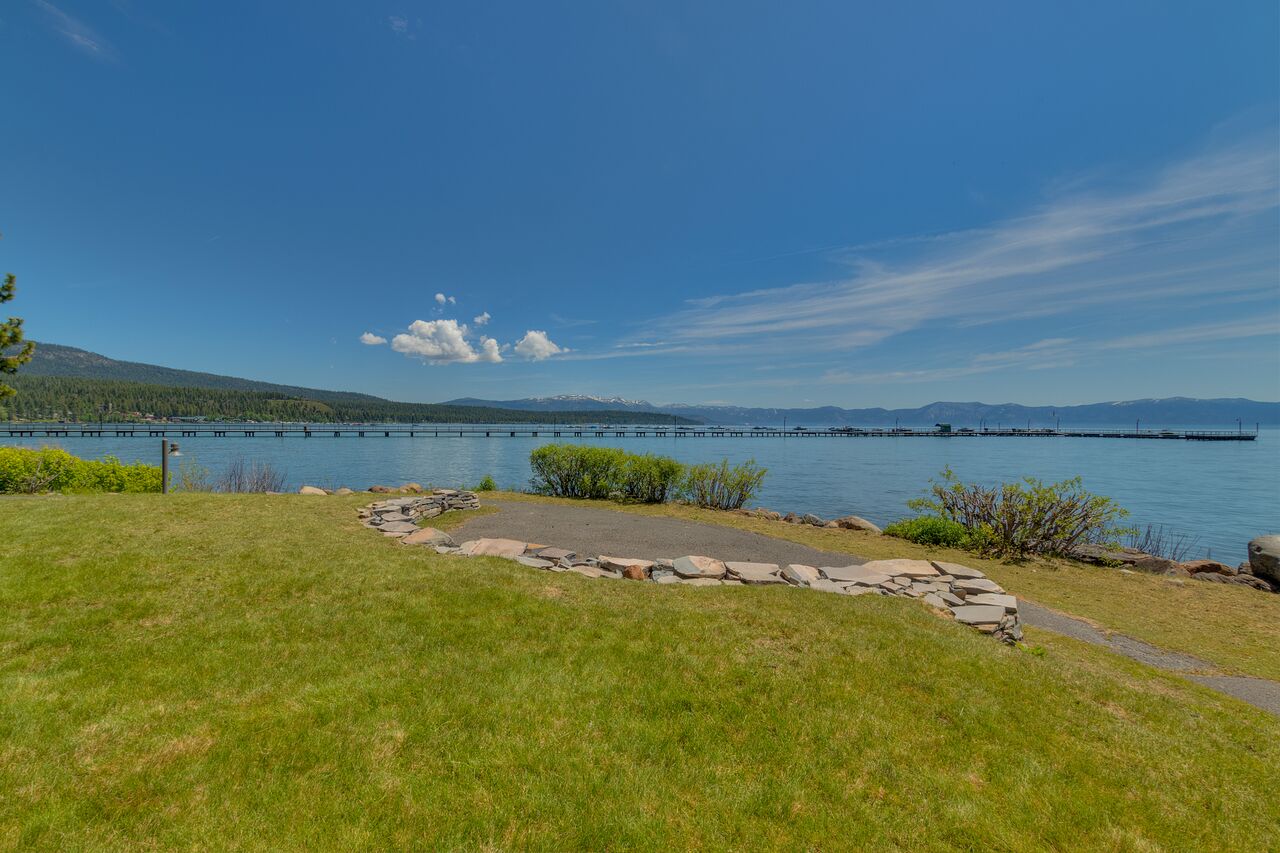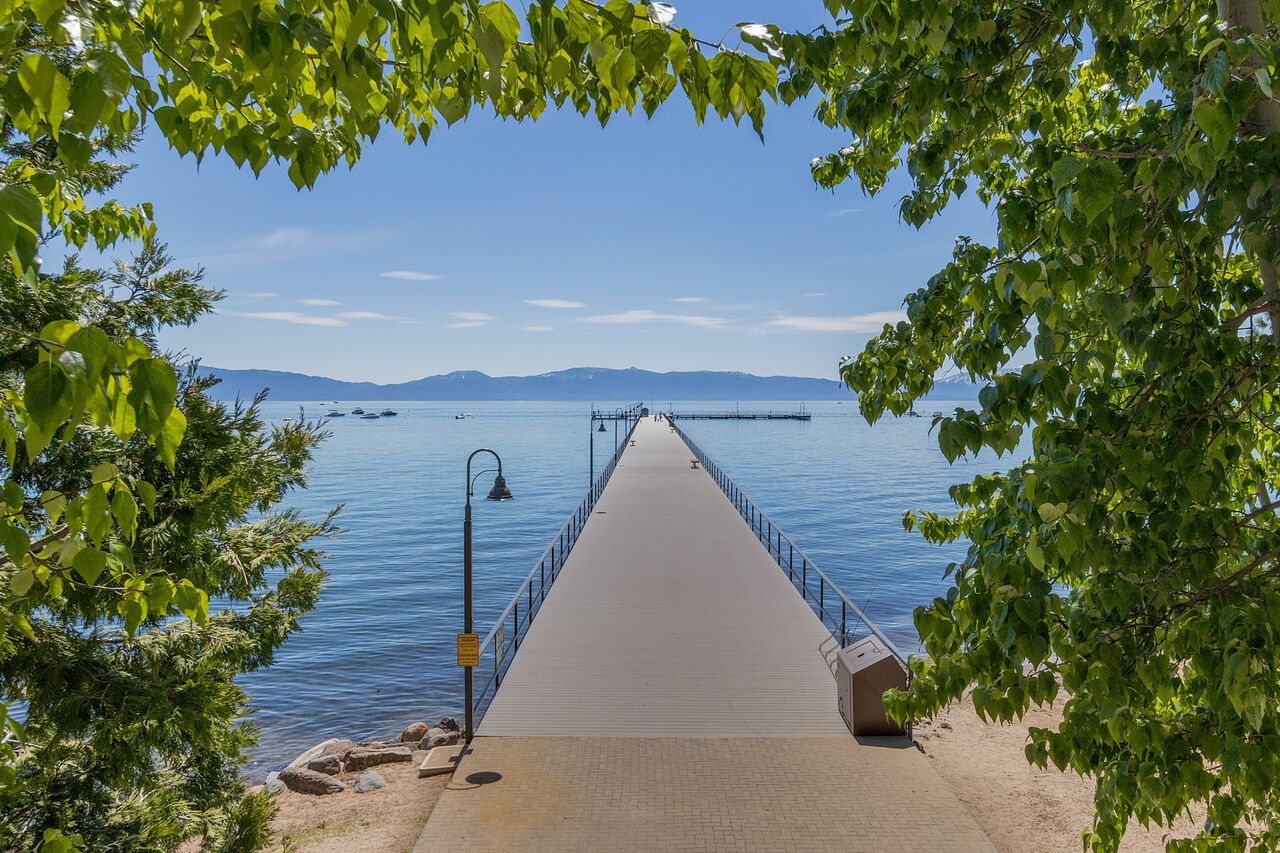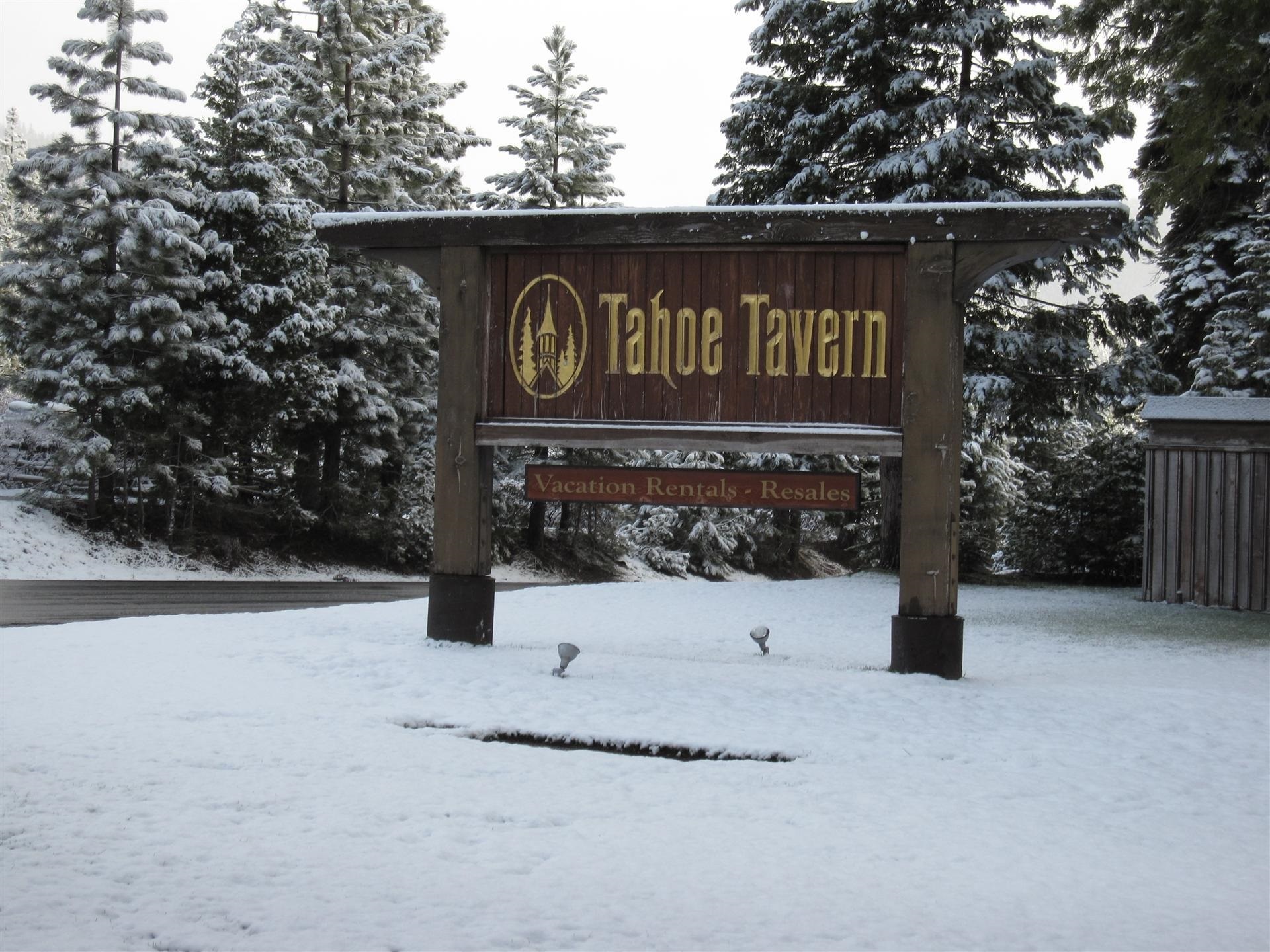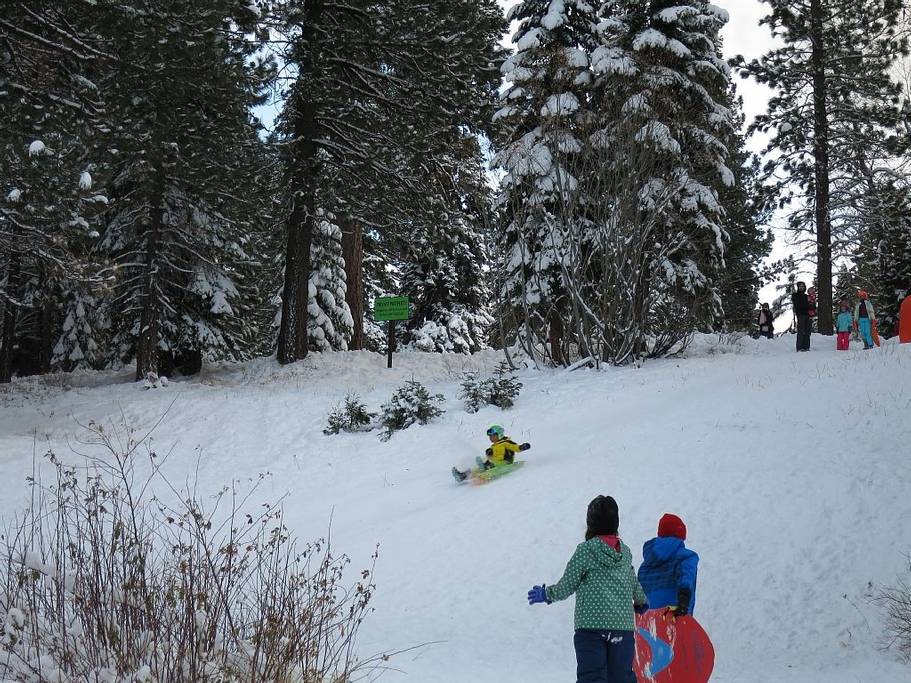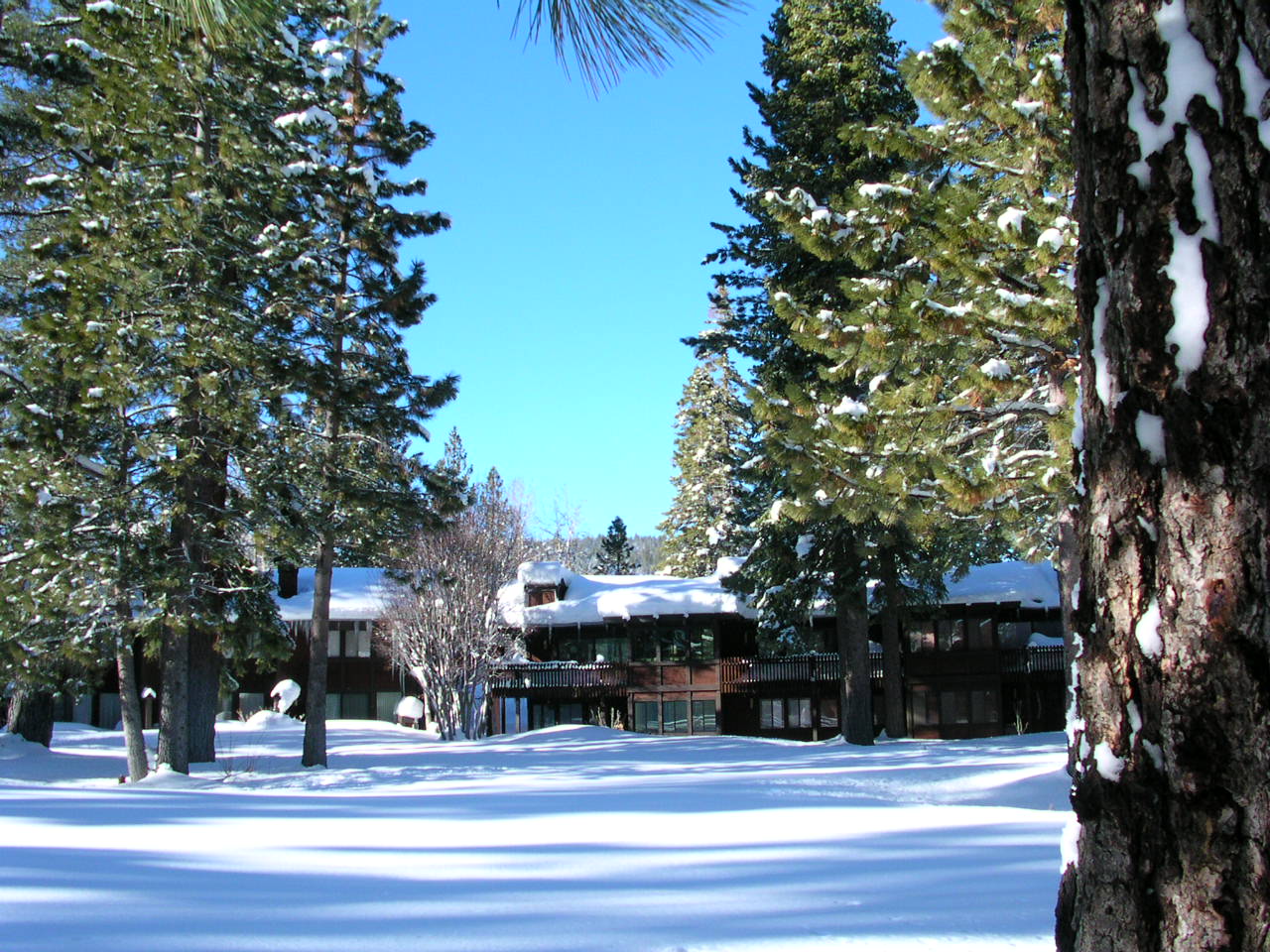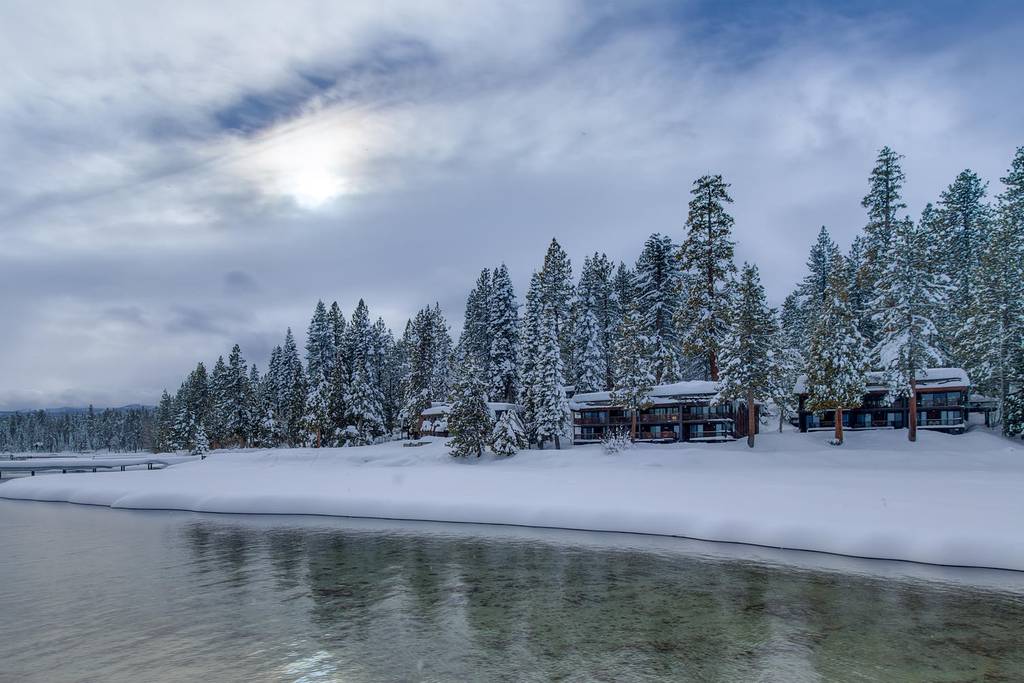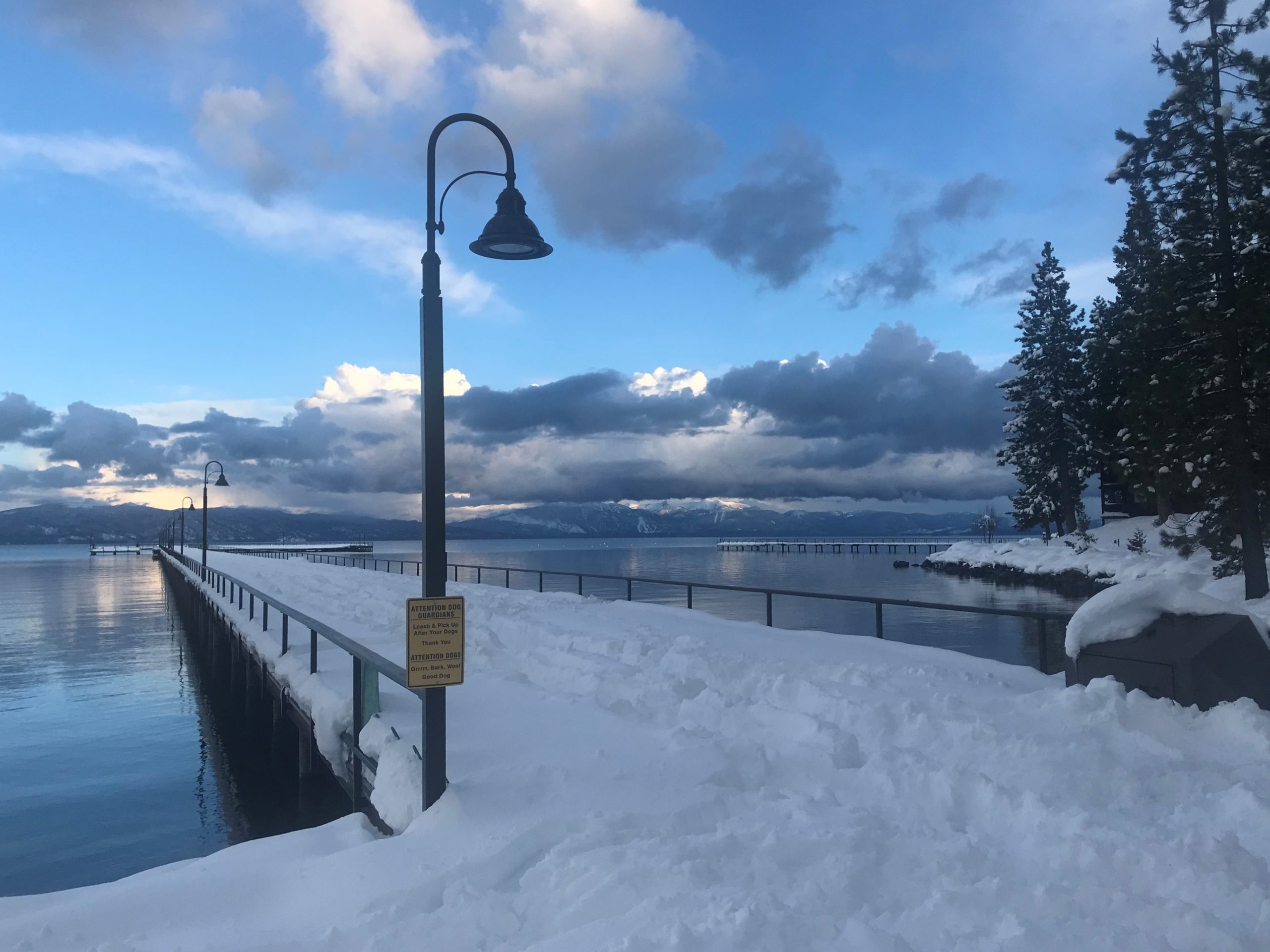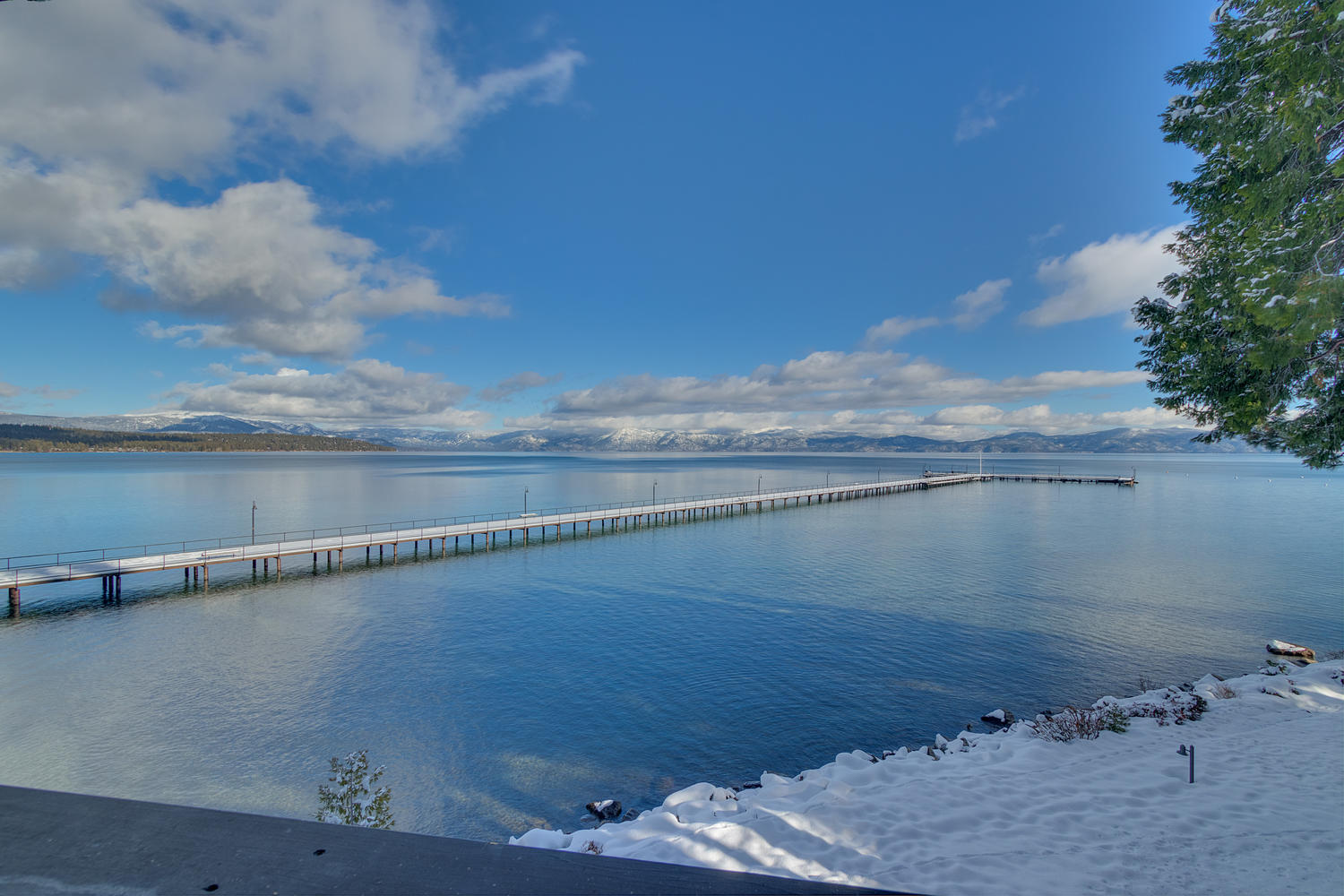 Split-level condo vacation home tucked into the forest with easy access and only a short walk to the lakeshore. It's comfortably furnished including a newly upgraded kitchen with beautiful pine cabinets, green stone counter-tops and new appliances. The step-down living room is complimented by the natural rock fireplace and original redwood paneling. Upstairs you'll enjoy the vaulted wood beam ceilings and cathedral style windows as you fall asleep looking out into the treetops. Skylights and window seats add a measure of warmth to this charming woodland unit.
SOLD!
---
T a h o e  T a v e r n  T o w n h o m e  # 1 2 5
3   B E D R O O M ,  2  B A T H  – L A K E V I E W
1/6 Share
$ 2 7 5, 0 0 0

 

$ 2 5 0 , 0 0 0
8  W E E K S  O F  U S E
Invalid slider ID or alias.
Tree Top Living!
Reflections of nature & light shine through the many windows that wrap around the upstairs living space of this splendidly situated, shared home. The partnership is solid, with rare turnovers, and these usually among friends. This is the first time on the MLS.
The split-level, reverse floor plan offers: Lovely views of the North Meadow, and the famous Tavern pier from all of the living room, dining room and upstairs deck, as well as from the two bedrooms and patio on the lower level.
The surrounding trees beckon through the skylight extending the sense of nature into the living area with its abundant, comfortable seating and natural rock fire place. New surface finishes are carpeting and windows in the dining room and the living room slider.
The en-suite master bedroom with clerestory windows completes the upstairs package. The two large downstairs bedrooms accommodate a variety of sleeping choices. One of these directly commands the patio on the Meadow. Bathrooms, up and down have been recently updated in tile and granite. This is one of the few homes with a carport, with its extra-large outdoor storage.
It's privately located, adjacent to Forest Service land, just at the east end of the property overlooking the beautiful and accessible lake view path to Tahoe City. The stroll through the forest to the shops and restaurants of town is the shortest for the Property….so near and yet far enough away from the summer crowds. Even so, the legendary swimming pool is just across that North Meadow expanse for play or contemplation; and the winter favorite, Sled Hill, is there at the turn of the drive.
This home will be yours, a week every six: currently including dates in January, March, April, May, July, August, September, and even Christmas week. Monthly dues of $300 include HOA dues, property taxes, insurance, basic necessities.
Shared ownership is the lightest financial path to Tahoe memories!
SOLD!
---
---
---
---
T a h o e  T a v e r n  T o w n h o m e  # 1 2 9
4   B E D R O O M ,  2 . 5  B A T H  –  L A K E V I E W
Invalid slider ID or alias.
Historical Lakefront Resort. A most distinctive townhome located in the Tahoe Tavern development now invites you to come home. Bounded on the north by a stretch of National Forest land, and a substantial stretch of shoreline, Tahoe Tavern #129 provides all that a lakefront home could possibly offer. No other townhome at the Tavern provides this unique combination of characteristics.
The living room windows and large lakefront patio provide a magnificent view of the mountains, Mount Rose and an expanse of Lake Tahoe. All of this can be yours without the involvement and expense usually associated with a lakefront home. There is room for all to come and go. The large living space is accented with clear grain redwood panels and trim. The kitchen, breakfast bar and dining room comfortably fill the needs of family and friends.
The upper level sports four bedrooms, two with their own lakefront decks for quiet times. The master has an en suite bath while the others share a generous two-room shower and water ensemble. To the north, a walk in the woods is just steps away. To the south, the pool is just a bit farther. And the lake, yes, the lake is always right there before you.
Tahoe Tavern #129 is far away from the traffic noise of Highway 89 yet it offers a pleasant walk through the forest to Tahoe City services, shops, dining, the Gatekeepers Museum and the newly opened Tahoe Maritime Museum. After 45 years and four generations, Tahoe Tavern #129 has stepped out of time offering you its unique location, peaceful ambience and distinctive presence amongst some of the most timeless beauty found on earth.
S O L D !


L I S T E D   A T  $ 3 , 1 0 0 , 0 0 0   $ 2, 9 5 0 , 0 0 0

---
---